Getting pictures with transparent backgrounds is not something only available to graphic designers with Photoshop. The advancement of AI technology has resulted in the creation of automatic background remover apps. They make it simple for anybody to edit images online, leaving clear-cut backdrops.
Looking for the app to remove backgrounds quickly? Discover a list of the best paid and free background remover apps available in 2022. We will rank them based on their performance, usability, and cost. Continue reading to learn more!
Free Apps to Remove Backgrounds
Depositphotos Background Remover
Price: Free
Compatibility: Online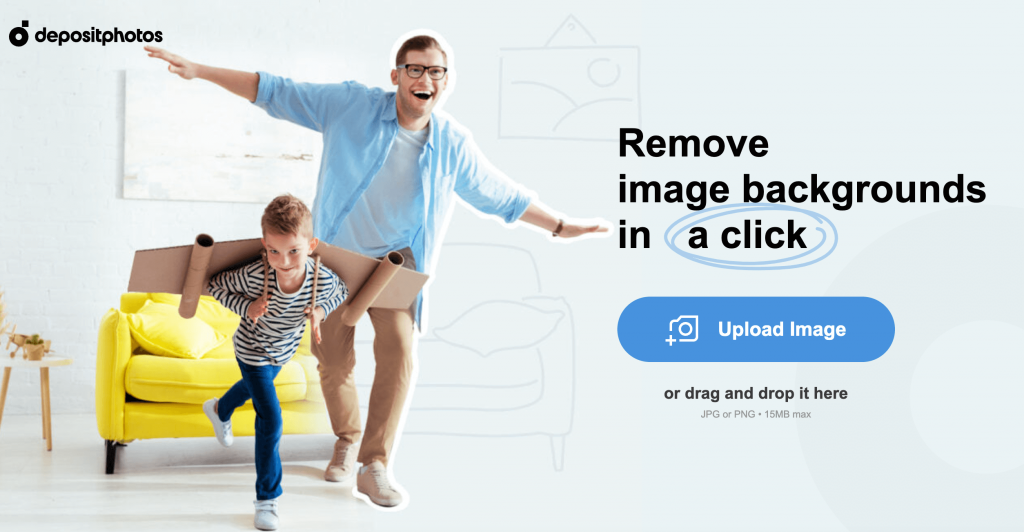 Depositphotos background remover is a free app to remove backgrounds online. This tool helps make pictures transparent automatically. The innovative eraser is based on AI technology that edits PNG, JPG, or JPEG files in seconds. All processed images are automatically deleted seven days after the tool is utilized. 
What's also great about this free background remover app is that it saves the original quality of your image while retaining its form, color, and details. After processing, you will receive a professional-looking picture ready to be used for digital and print. In addition, the Depositphotos tool provides editing features, allowing you to erase unnecessary details or restore important parts of an image.

| | |
| --- | --- |
| Pros: | Cons: |
| | |
| Free access with unlimited usage |   |
| Useful editing features and easy-to-use interface |   |
| Watermark-free images without registration |   |
| |   |
– Find out more in the detailed review of Depositphotos Free Background Remover.
VistaCreate Background Remover
Price: Free
Compatibility: Online, Android, iOS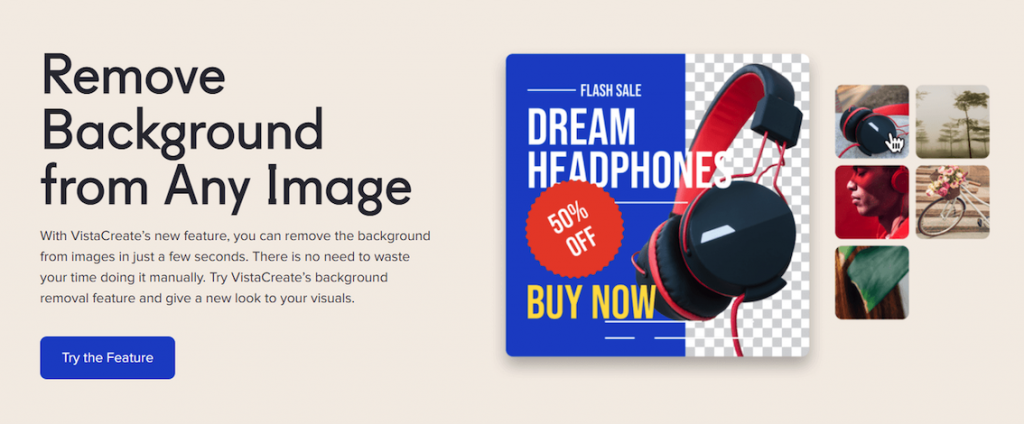 VistaCreate is an online graphic design platform with a wide range of editing features, design templates, and creative assets. VistaCreate recently provided its users with a background remover that helps eliminate backdrops in just a few seconds. You can use this editing tool to clear backgrounds and make them transparent. And even if the image backdrop is white, you can still erase and save it in PNG format.
VistaCreate's remover is user-friendly and free for anyone online. The only requirement is to register with the platform. Afterwards, you'll get access to an image editor, as well as 50,000 design templates, one million creative assets, free fonts, animations, and more.
| | |
| --- | --- |
| Pros: | Cons: |
| | |
| One-click backdrop removal |   |
| Advanced editing features |   |
| Rich library of creative assets |   |
Adobe Cutout Background App
Price: Free
Compatibility: Online, Windows, macOS, Android, iOS
This is a free background remover app that enables you to instantly get rid of the background in your photo. To access the tool, you must first create an account on the Adobe Creative Cloud Express app. Adobe remover is included in the free membership plan, which also offers design templates, creative assets, and fonts.
The Adobe background remover app has a simple design, allowing you to process images quickly. After the removal process, you can leave it as is or add new backdrops, logos, or filters. You can choose from over 100,000 templates and assets.
| | |
| --- | --- |
| Pros: | Cons: |
| | |
| |   |
| Ability to personalize images |   |
| Vast collection of design templates |   |
Pixlr BG
Price: Free
Compatibility: Online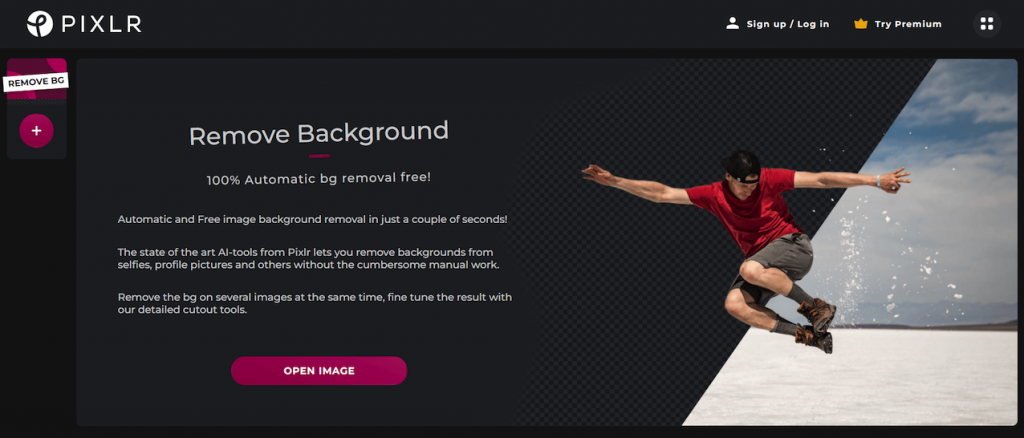 Similar to the above tool, Pixlr BG is another free background remover app that will assist any visual content maker in creating PNGs with transparent backdrops. The Pixlr BG removal tool works with the help of state-of-the-art AI to provide its users with high-quality results. However, if the final picture isn't up to your standards, you can fine-tune it with the aid of additional editing features.  
Pixlr BG remover is a great solution for both personal and business-related projects. Moreover, if you're pressed for time, you can open multiple images at once and remove backgrounds in bulk.
Pros:
Cons:

Inconvenient editing panel
Paid Apps that Erase Backgrounds
Cutout.pro
Price: Free (1 image); Paid ($5/month)
Compatibility: Online, Windows, macOS

Cutout.pro offers AI background removal and cut out tools. With their help, you can make a photo or video backdrop transparent and edit it to your liking. Cutout.pro supports general image formats, including JPG, PNG, or BMP files no more than 15MB in size. 
Cutout.pro offers one removal for free after registration. To continue using the app, you can either subscribe to a set number of visuals per month, or just pay on the go. Editing 40 pictures per month will cost you $5. Alternatively, you can pay $2.99 for three visuals from the pay-as-you-go plan and use them whenever you want.
| | |
| --- | --- |
| Pros: | Cons: |
| Image and video editing available | |
| |   |
| |   |
Removal.ai
Price: Free (1 image); Paid ($5.99/month)
Compatibility: Online, Windows, macOS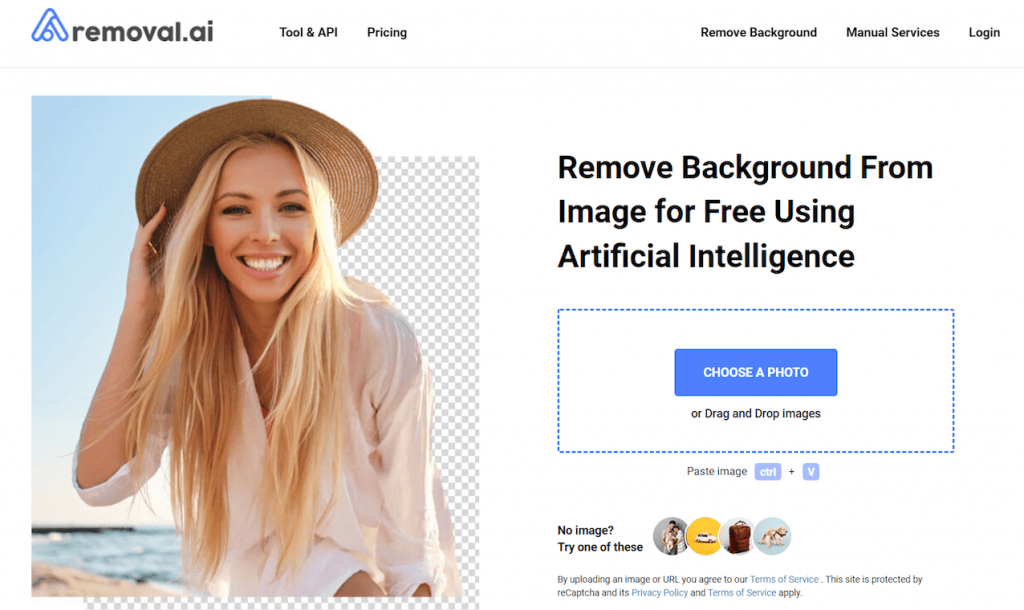 Removal.ai is a background remover app based on AI technology that automatically recognizes a picture's foreground and background to isolate it. With the help of Removal.ai, you can get an image with a transparent, white, or customized backdrop in seconds. Some basic editing options are also available, such as resizing, adding text, color, or your own background.
To use the Removal.ai app, you must first register on their website. After that, you can edit one image for free before paying $1.89 for each subsequent image. A monthly membership that allows you to edit 40 photographs costs $5.99/month.
| | |
| --- | --- |
| Pros: | Cons: |
| Bulk upload on the desktop app | |
| |   |
| |   |
Remove.bg
Price: Free (1 image); Paid ($9.99/month)
Compatibility: Online, Android, Windows, macOS, Linux

Remove.bg is a web-based app that helps get rid of image backgrounds. The editing process is quick and straightforward, and does not require any design skills. After removing a backdrop, you can add a new one from the site's selection or upload one from your device. You can also erase or restore parts of an image to make it perfect. 
You can process one picture for free on the Remove.bg app. However, if you want to continue editing, you must pay for a subscription plan or use the pay-as-you-go option. Monthly plans start at $9.99/month for 40 images, or $2.20 per image without a subscription.
| | |
| --- | --- |
| Pros: | Cons: |
| | |
| Additional editing features | |
| |   |
To sum up: What is the Best Background Remover App?
We recommend utilizing the Depositphotos BG remover if you are looking for the best app to remove backgrounds based on performance, ease of use, and cost. If you need an erasing tool with various editing features and a vast library of creative assets, including design templates, fonts, and animations, then consider VistaCreate Background Remover.
FAQs about an App that Removes Backgrounds
What is the easiest way to remove a background?
Using an online background eraser is the simplest way to remove a picture's backdrop. It will automatiсally detect which parts of an image should be eliminated, leaving you with a transparent image ready to be used in all kinds of creative projects. Try any online tool from the list above!
What is the best free background remover?
Based on numerous tests, Depositphotos free background remover stands out from its competitors and consistently produces good results. The tool works best with images that have clearly defined objects in the foreground. If there is no visible focus point in your picture, the Depositphotos remover might process it improperly. You can use the built-in editor to fine-tune flaws. 
How do I remove a background without losing quality?
If high image quality is your top priority, then utilize Photoshop to eliminate the backdrop from a picture. Most online background removal apps are a solid option if you want to save time. They provide less precise image resolution invisible to the naked eye, while producing high-quality results.
People also read
How to Resize Your Images without Losing Quality
How to Сhoose the Best Graphics Editor: Online and Desktop Tools for Image Editing