Modern software updates daily and new products are released hourly. How could you not get lost in the diversity of software for picture editors and design tools? At Depositphotos, we have compiled a list of design software solutions based on the experience of our contributors and clients. Some of the products are more suitable for photographers, and some will help you quickly create a design masterpiece and even simple animation from scratch. Besides, we added some time-tested tips on how to choose paid or free software for graphic design and picture editing regardless of whether you are a professional designer, an amateur photographer, or a content manager in a small startup.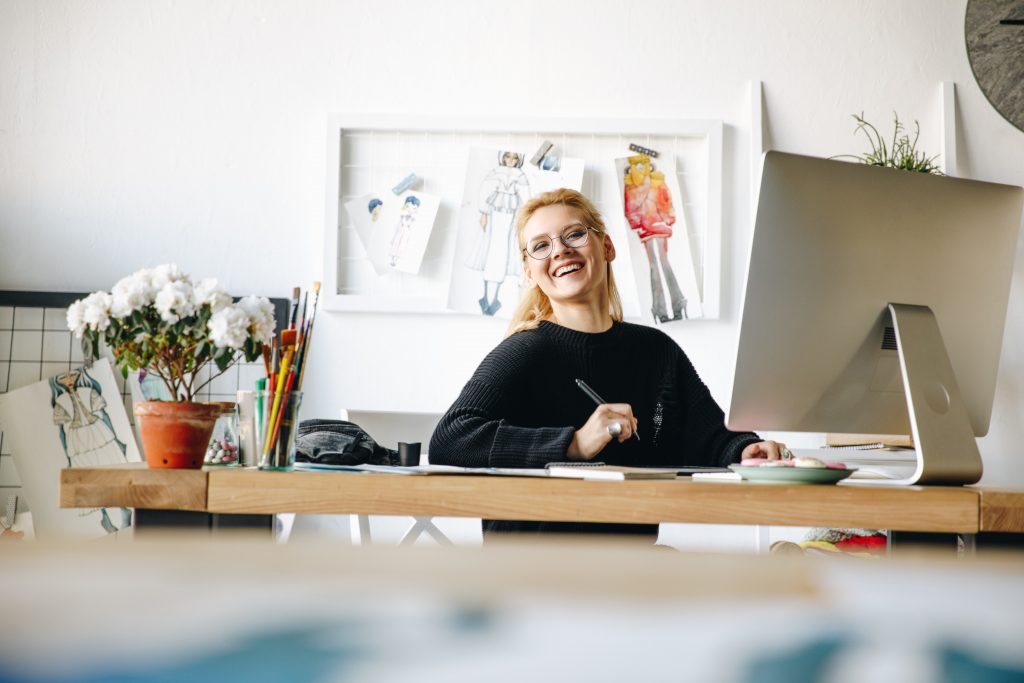 What tasks can you handle with a graphics editor?
Before discussing any program for editing photos and creating design layouts, let's take a look at how a product of this type works, and what you should and shouldn't expect from it. In brief, graphics editors are designed for the following tasks:
Photography editing and retouching Examples: Adobe Lightroom, Skylum Luminar, Corel PaintShop Pro
Creating visual content from scratch Examples: CorelDRAW Graphics Suite, Xara Designer, Adobe Illustrator, Affinity Designer
Designing visuals by combining various elements including photos, vector images, texts, and sometimes web elements such as buttons and animations Examples: Sketch, Figma, Crello
Designing actual websites Examples: Elementor, Adobe XD
Also, graphic editors differ by their learning curve. Some of them are targeted at professional designers, illustrators, photographers, and retouchers. For instance, it requires years for many to learn how to use Adobe Photoshop as it has a wide range of features and a highly-customizable interface. Intuitive UX, automated AI-based image editing, "drag-and-drop" feature, and numerous templates are common for tools designed for non-professions or entry-level creatives. With their help, a content manager doesn't need a designer most of the time, as they create illustrations based on professionally designed templates (Crello, Figma).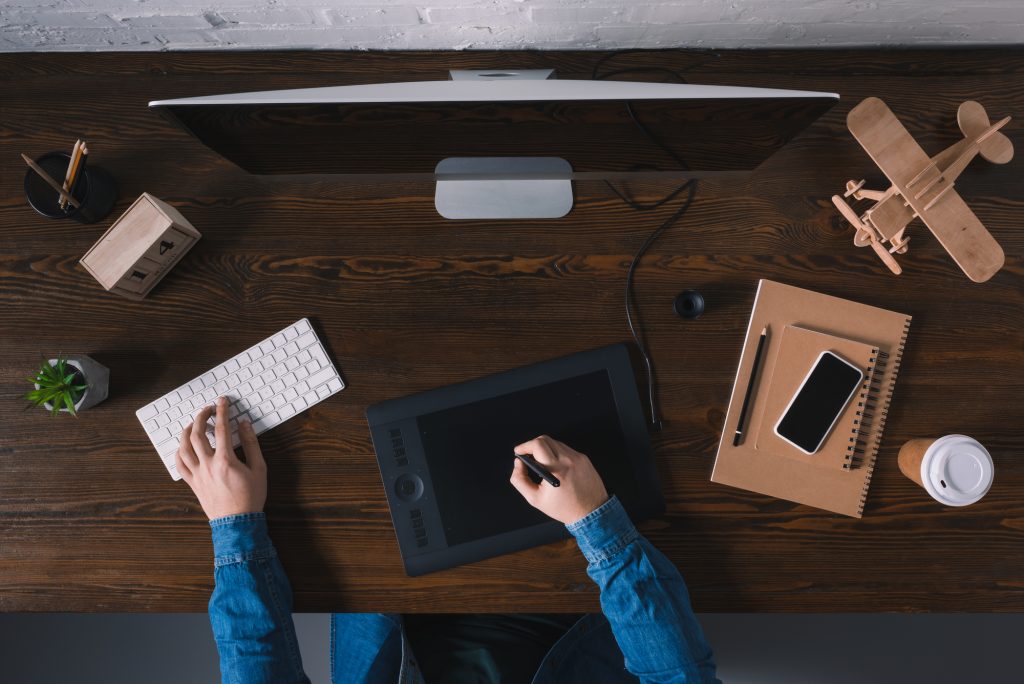 Also, there is paid and free software for graphic design. You may also notice that most modern tools are cloud-based which means they do not use your device storage much and allow remote collaborations. Desktop-only tools do still exist and usually are made for professionals or those who work with animation as they require enormous resources for rendering. In most cases, they offer you cloud storage for your designs as well. Examples — Blender, Adobe Photoshop, and Sketch. In general, UX and UI, a storage type, collaboration opportunities, templates, AI integration, image database, and the complexity of features are the main characteristics that distinguish software for picture editors and design tools from one another.
A list of the best software for photo editing. Pros and cons
Best paid graphic design software. Depositphotos' choice
#1 Adobe Photoshop
best for — experienced designers working with web and print materials and photo editors with huge creative ambitions prices in 2020 — $20.99 per month In 2020, Adobe Photoshop remains the most flexible and all-in-one software in the world. Even though Adobe has lots of niche products aimed to solve specific design tasks (some of them are also listed below), Photoshop works equally well for creating new content like logos or illustrations, retouching photos, and mixed design tasks. In other words, Photoshop has tools for every level or manipulations with visuals. Adobe Photoshop could be used on devices with any operating system including Windows and Mac, and it has superior graphic design capabilities compared to similar software. The key advantages of Adobe Photoshop: a rich set of features to execute any design tasks including 3D and animation, flexible file transfers, Creative Cloud which is an integrated image library, mobile application, tools to create responsive visuals, endless customization of canvas and brushes. Some critical drawbacks: too many customizable features that make it impossible for amateurs and professionals with limited experience to work with Photoshop, and bad support for raster and vector images of certain formats.
#2 Sketch
best for — digital designers working with Mac prices in 2020 — $99 for individuals; $9 per month (or $99 per year) for each team member Sketch is an example of a design tool focused on a specific field which in this case is UI designs of websites and apps. As today's web design should be responsive and flexible to be performed on various devices, one can use Sketch to create smart layouts where components could be changed automatically regarding size and content adjustments. That is possible with Sketch's advanced grids and pixel functionality. And yes, it works with vectors. Also, Sketch offers you an opportunity to work in collaboration with other web design tools. To execute even more specific design tasks working on UI or UX, designers may apply various plugins and save time. Significant pros of using Sketch: fast learning curve compared to Adobe Photoshop, great collaboration opportunities, design scalability and flexibility, design level export at any stage, and cloud autosaves. Sketch cons: a Mac version only, no high-res rendering for screens while working from the cloud, not suitable for work with illustrations and may not integrate your illustration in existing layout as expected.
#3 Affinity Designer
best for — entrance-level vector and raster illustrators prices in 2020 — $19.99 for iPad or $49.99 for the desktop version Affinity Designer offers you a wide range of features and makes you concentrate on your creative ideas instead of being overloaded with a new UI environment for creating your next illustration. This tool is a good start for those who just started working as a designer. It saves users time on finding necessary features and provides them with an opportunity to look at their work through different (and customizable!) grids, zooming levels, filters, effects, and much more. Affinity Designer has a majestic native app for iPad that has exactly the same features as its desktop version. This tool is compliant with Mac and Windows and allows you to create both vector and raster visuals, as well as RGB or LAB color spaces, and switch between each other. Key advantages of Affinity Designer: vector and raster environment, a versatile grid system that allows creatives to polish their work, objects snapping, endless zooming for better accuracy, collaboration tools to create artboard, and an iPad version of the software. Mind some Affinity Designer disadvantages: some features like natural perspective gridding and vector erasers, there's also no AI format support.
#4 CorelDRAW Graphics Suite
best for — vector illustrations prices in 2020 — $399 CorelDRAW is one more market leader among powerful tools to master vector illustrations with a customizable interface. Compared to Adobe Illustrator, it is more suitable for visual "drawing" or "sketching", not creating vector images by mixing various shapes. You can easily work out a poster or other design for print, web interfaces, and logos, as CorelDRAW Graphics Suite contains AI-based tools that help you to adjust images faster. That makes its learning curve not that steep. For example, the LiveSketch feature, which is based on machine learning technologies, makes it possible for you to turn your sketch into vector objects instantly. In addition, CorelDRAW supports all graphic file formats, contains a great library of fonts, gradients, and other design objects, and provides you with an option to publish your vector image directly on your website. It also doesn't have operating platform limitations. There are a lot of CorelDRAW advantages: great software performance due to an innovative approach, AI-based features that speed up the design process, UI customization options, a huge library of different objects that has lots of contributors from the CorelDraw community, GPU acceleration, and wide compatibility regarding file formats. And there are also a couple of CorelDRAW disadvantages. There is no native mobile app that allows you to continues working on your designs from anywhere and quite complicated UI that is hard to work with for beginners.
#5 Adobe Illustrator
best for — vector designs prices in 2020 — $239.88 per year Adobe Illustrator is a high-customizable product that was built to meet expectations of graphic designers, not photographers and retouchers. With this tool, you could create scalable lightweight vector images such as logos, icons, vector illustrations, web page layouts, mockups, and much more. You can either draw your artwork or integrate ready-made vector shapes and elements into your design. There is also a great mobile version of the tool called Adobe Illustrator Draw which works flawlessly and requires few hardware resources to do rendering. The Adobe Illustration UX is as flexible as it could be, yet it is intuitive and quite simple. You create a shape and just apply various manipulations to it. Templates for beginners are also available. Adobe Illustrator works both on Mac and Windows devices. Advantages of Adobe Illustrator you would definitely like: it is an industry benchmark which means any other tools are just imitating it, there is room for features customization (drag-and-drop interface) and a possibility to apply in-panel editing for several objects. Adobe Illustrator has a great library of fonts. And disadvantages are as follows: just like Photoshop, Illustrator contains many features some of which are hidden somewhere in the interface and need a lot of space and other resources from your device.
#6 Xara Designer Pro X
best for — illustrators working with photos or vector images prices in 2020 — $299 Xara Designer is a graphics tool for print and web design, photographers, and illustrators. It has a wide range of ready-to-use design elements from its library as well as a great collection with preset layouts for different types of visual products. As a result, you can use it both for print and web designs. Compared to other graphics tools, Xara Designer has significantly higher performance and has unlimited undo opportunities as it is based on innovative rendering engines and cloud storage. At the same time, Xara Designer provides you with tools to create and adjust vector forms, outlines, and gradients and apply them to all your designs. This tool requires minimum time to get used to and learn its operating and UI logic: it offers you "drag and drop" and great scaling. Although this graphics editor is designed for Windows only, you can use the desktop and tablet version which are the same. Explore Xara Designer pros: high performance and high-quality rendering of images on the screen, support for any type of graphics, simplicity and intuitiveness of the interface that does not prevent the UI from being flexible and multifunctional, zoom capabilities, Dropbox and Google Drive synchronization, supports the most popular image formats. What you may not like about Xara Designer: your inability to work with this software if you have a non-Windows device, as well as difficulties with the use of masks.
#7 Crello
best for — dealing with design tasks without a designer prices in 2020 — $7.99 per month Crello is a tool for companies that don't have in-house designers for their current tasks. With this tool, you can select a template in the library, replace text, pictures, and other graphic elements in it, and get a professional design in a short amount of time. You don't need knowledge about design and how a graphics editor works if you work with Crello. All you need is to know what object you want to get as a result (advertising banner, illustration for publication on social networks, poster, or something else), as well as the information that should be on it. A bonus to using Crello is access to the Depositphotos stock image library. Pros: You don't need to be a designer to create a banner or a poster, you save time and budget on recruiting additional employees. Crello's interface is designed in such a way that you don't have to figure out where the tools you need to use are located. This online application also allows you to create animated graphics. Cons: Crello is not a professional design tool, where you can find an endless range of features for editing graphics. It is a template-based online tool.
The best free software for graphics design
#1 GIMP
best for — web designs as well as photo retouching GIMP (or GNU Image Manipulation Program) is free and open-source software for designers, illustrators, and photographers. Its key feature is that you can adjust the code of the program and customize anything inside it. GIMP has a strong community where you can get numerous custom plugins and program versions designed for your specific needs. In general, GIMP is a democratic alternative to expensive Adobe products that beginners cannot always afford. This tool allows you to retouch photos, create illustrations from scratch, and design compositions from existing elements. In addition, it is an online cloud-based tool that is constantly being updated. The software works on Windows, Mac, Linux, and other operating systems. Important advantages of GIMP: the ability to perform literally any manipulations with images and artboards and add features that you were missing in the basic version of the product. OS compatibility, lots of tutorials for both beginners and professionals, two types of possible interface, lightweights, and strong community support are some other perks with GIMP. Why might you not enjoy GIMP? As it is open-source, it may contain bugs.
#2 Figma
best for — design collaborations connected with IU design and visual branding note — it has a free version and paid version (from $12 per month) Figma is a tool for collaborating on design prototypes. It is a cloud-based online service that combines high speed execution of operations, as well as integration with several other tools for teamwork on design, such as Slack and Framer. All this makes Figma an excellent solution for large companies (in a team, one or more designers work on the same visual product, as well as for remote teams). The basic version of the program is free, but only the paid version gives you access to full collaboration with your design partners. Figma's scope covers the creation of interfaces and other simpler visual products: logos, banners, buttons, and more. Pros: online collaborations, high performance, reliable cloud storage, and data encryption, clear interface, versatility (you can create both small pictures for social networks and system design), and the ability to create a corporate library of design elements. Cons: This web application only works online, you may face difficulties importing vector images, limited text editing capabilities.
#3 Inkscape
best for — vector designs and web interfaces This free open-source cross-platform application (Windows, Mac, and Linux) is ideal for mixed tasks that involve both creating individual graphic elements from scratch and working on complex web interfaces. In the functionality of this graphics application, you will find extensive text manipulation and file support for most formats. Inkscape's advantages are its ability to integrate additional features, as well as a strong community that is easy to get in touch with for advice. There, you will also find many useful filters, ready-made tools for creating vector shapes, and transforming vectors. You may not like Inkscape because it can slow down your work if it involves rendering or you are working with multi-page designs. You need powerful hardware to work with Inkscape. Also, you may find the program interface too confusing if you were not familiar with similar tools before.
#4 Gravit Designer
best for — vector images note — it has both free and paid PRO version (from $49 per year) This HTML-based graphics editor was created for those who work with vectors and vector-based designs. With this tool, you can also add graphics to photos and create animations for web projects. Gravit Designer is compatible with platforms such as Windows, Mac, and Linux, and also supports all popular formats with graphics. We classified this program as a free tool, although it also has a paid version in which you can work offline (Gravit Designer Pro). The advantages of this program are that its interface will be understandable for both professionals and novice designers, and switching between tabs and intuitive navigation through artboards and pages speeds up complex creative tasks. In addition, the set of its basic features includes all popular methods of working with graphics (Pen, Lasso, and others). You can also customize Gravit Designer to create graphics specifically for social media or web interfaces. Some drawbacks of this desktop app include the lack of a collaboration feature and the inability to preview the design prototype on mobile devices. The free version of the program only works online.
Tips and tricks on how to choose paid or free photo editor software
What's most important when choosing a program for graphics? As you can understand from the text above, the functions of most graphics editors are diverse, even if some editors are designed for web layouts and others help create vector illustrations. But there are also some critical differences between various paid graphic design software and free ones (and it is not their price). We advise you to consider the following factors when making your final choice:
Features
What's your occupation? Are you a retoucher looking to automate photo editing and create stunning collages? Or an illustrator with a tablet as the main tool? Interface designer? 3D artist? Determine which formats you will work with and which features should be performed by your photo editing and graphic design software first.
Teamwork
Some programs for editing photos and illustrations are totally cloud-based, so they allow flexible collaboration with a large team of designers or even several departments (for example, development, marketing, and design departments). If you need collaborative features inside your graphics editor, look for online solutions.
Budget
Most image editors are paid, but modern innovative solutions that are still in the startup phase may be free. Moreover, some graphics editors on the market offer services within the Freemium package. It means that the basic version of the program is free, but certain features are available only with a subscription. Decide on your budget to make your choice.
Cybersecurity
Software security covers many aspects, including personal data and intellectual property protection, avoiding risks of information loss due to system failures, and fighting against hardware hacking. Make sure the solution you choose meets security standards.
Speed
Some graphics editors require significant hardware capabilities, and some programs (more often — free photo editing software) use cloud storage and cloud software to process your requests. In both cases, it is about performance. Before you make a final decision regarding one or another graphics editor, test its processing speed with one of your current tasks.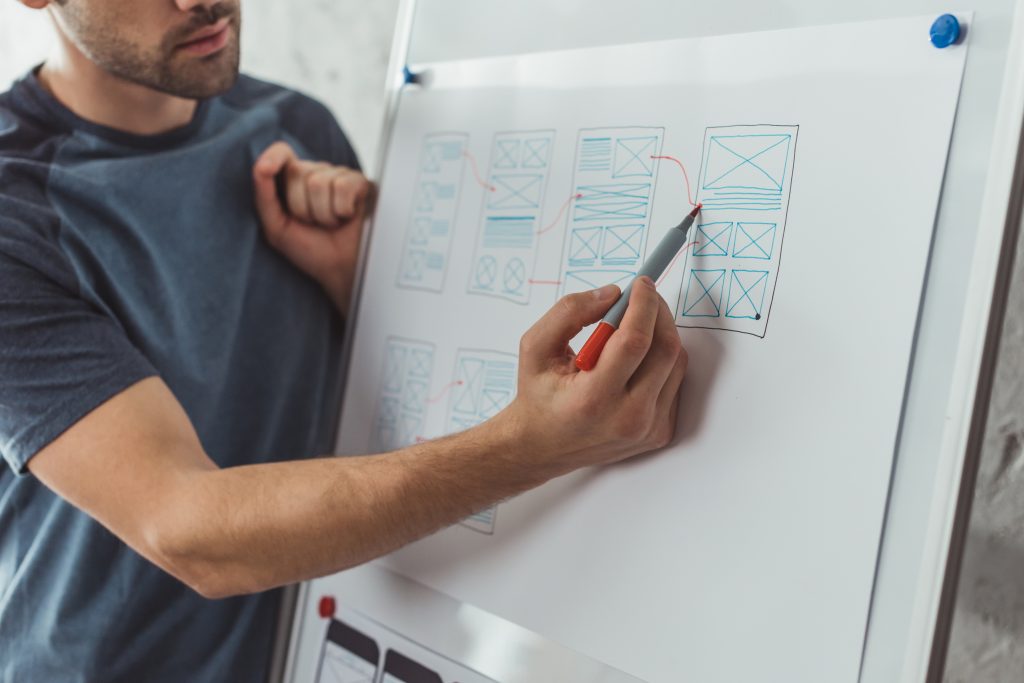 Conclusion
Tech startups with image editing software appear every day. Well-known graphics editors release updates regularly. Many of the software solutions are so flexible that it is difficult to realize if they are good for your particular tasks. We advise you to follow the path of individual testing of professional graphic editors. In 2020, it's not that expensive to become the one who tests everything: many of the paid apps offer a free trial period, and some cloud-based applications use the Freemium monetization model so you don't have to pay for anything until you need some extra features. Important factors that we advise you to consider when choosing software are your goals, the formats you work with, your style of work, and your budget. At the same time, we advise you to keep track of all the latest tech and innovations in the field of graphics editors and try new ones even when you think you have found the perfect tool for the job.