With the availability of professional cameras and smartphones on the market nowadays, posting low-quality photographs is nearly a crime. People get used to crisp and clear pictures and expect nothing less than high-resolution visuals in their feed. Unfortunately, even with professional gear, the quality and size of some pictures may change when transported from one device to another, or when downloaded from the internet.
To assist anyone dealing with visual content, we decided to compile a list of the best image upscaler tools available on the web. With their help, you can increase photo resolution and enhance image quality in a couple of clicks. They are ranked by ease of use, upscaling effects, available scales, editing tools, and pricing. Continue reading to find out more!
List of 7 Best Tools to Upscale an Image
Depositphotos Image Upscaler
Price: Free
Compatibility: Online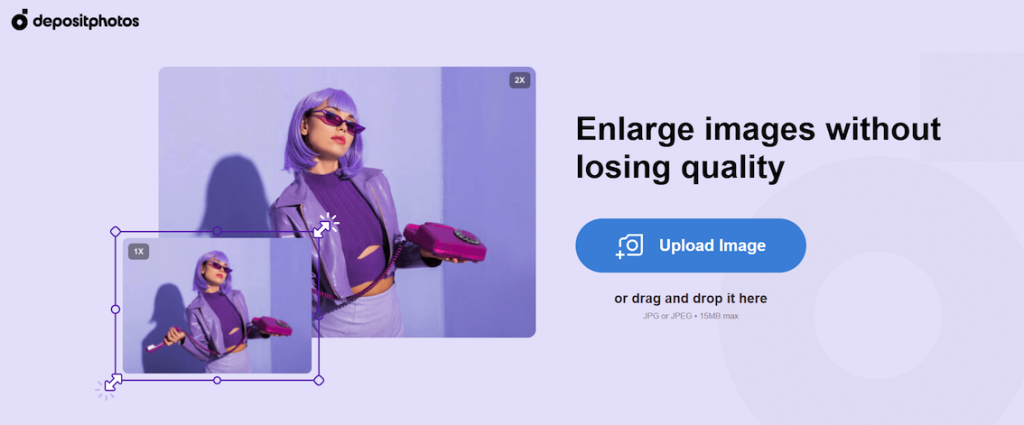 Depositphotos Image Upscaler is a free online enhancement tool that allows you to fix poor-quality visuals in a single click. You can enlarge any picture up to 15MB to twice its size. The innovative tool comes with no limitations, allowing you to edit as many pictures as you want, but only one at a time. 
Artificial Intelligence technology behind the tool ensures a smooth and quick editing process. Neural networks fill in missing pixels to reduce digital noise, increase resolution, and improve image quality while preserving details.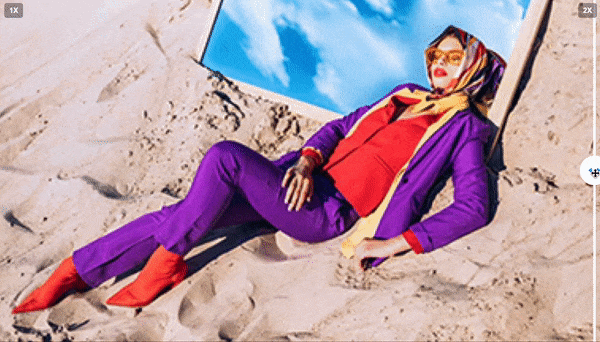 You can access Depositphotos Upscaler from any device, drag-and-drop or upload a file, resize the JPG (or JPEG), and download it in the same file format. Processed visuals are not stored on servers and are automatically deleted 3 hours after the service is utilized.
The enhancing process is simple and does not require any editing or design skills. Therefore, it can be used by photographers, marketers, bloggers, designers, and content creators of all levels.
| | |
| --- | --- |
| Pros: | Cons: |
| Instant, AI-powered upscaling | |
| | |
| Free access and unlimited usage |   |
| |   |
| Guaranteed file protection |   |
Icons8 Upscaler
Price: Free (3 images); Paid ($9/month)
Compatibility: Online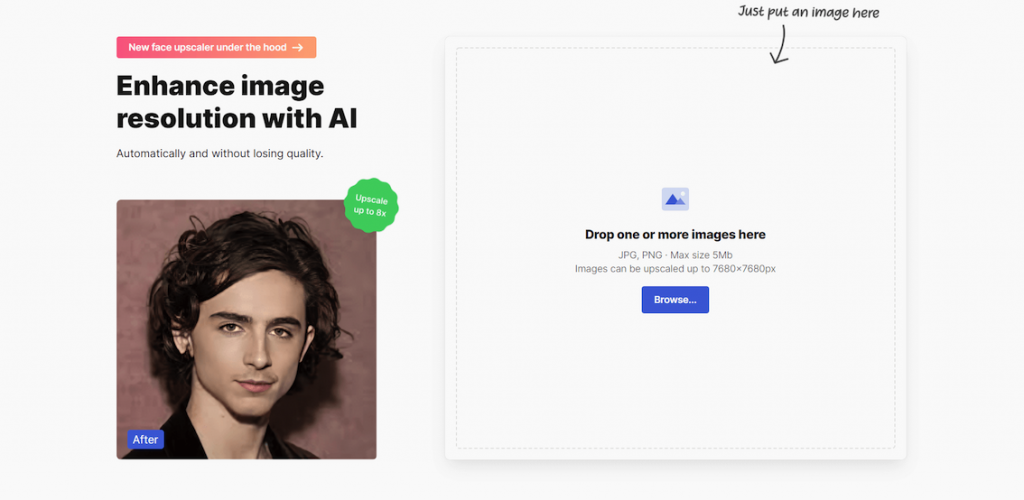 Smart Upscaler by icons8 is an AI-based improvement application that can enlarge pictures up to 8 times their original size. The smart tool offers a simple interface where you can drop one or more pictures up to 5MB in JPG or PNG format, and upscale your visuals up to 7680x7680px. 
The icons8 upscaler provides three free conversions, but the final picture contains a watermark. To remove it, you need to upgrade to a paid version with a few options. The first is the prepaid option, which allows you to edit 50 photographs for $10. The second option is to purchase a limited subscription for $9/month, which will enable you to edit 100 pictures every month. The last option is a $99/month unlimited subscription that allows you to edit as many pictures as you want.
| | |
| --- | --- |
| Pros: | Cons: |
| | Limited amount of conversions |
| | You need to pay to get watermark-free visuals |
| | Pictures are stored on servers |
| Ability to re-download enlarged pictures  |   |
UpscalePics
Price: $9-12/month
Compatibility: Online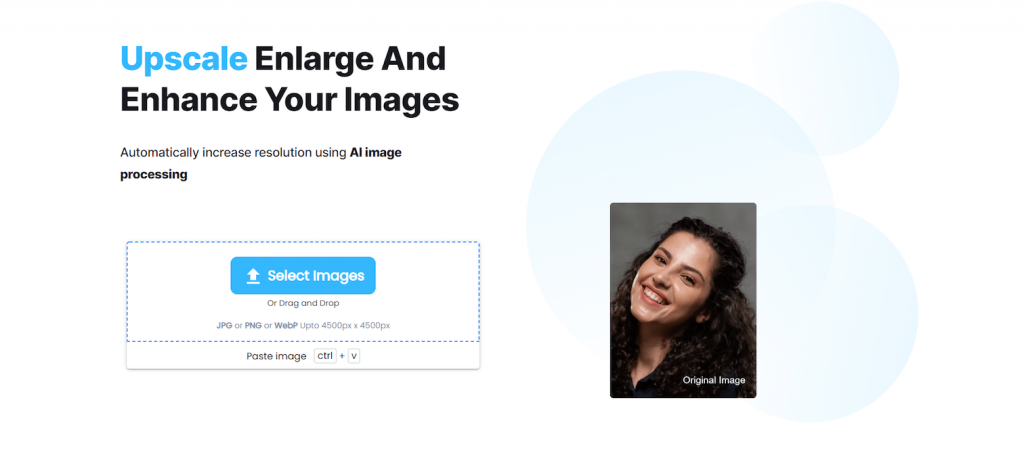 UpscalePics is an AI-powered upscaler software that allows you to enhance, enlarge, and compress images in batches. The software supports JPG, PNG, and WebP file formats up to 4500x4500px. 
With UpscalePics, you can remove JPEG noise and artifacts from your photographs and upscale pictures up to 8 times. The service ensures privacy and provides on-device upscaling, meaning that your visuals never leave your device. To ensure additional online privacy and anonymity, consider using a VPN solution. Check out PrivacyJournal.net for reviews of the best VPN providers for your needs.
On the website, users can enhance up to 5 images for free (with watermarks). To get an unlimited number of upscales, you need to purchase a subscription for $12 per month or $9 per month if you commit for a year.
| | |
| --- | --- |
| Pros: | Cons: |
| | |
| |   |
| |   |
| |   |
StockPhotos Upscaler
Price: Free (3 images); Paid ($7-15/month)
Compatibility: Online

Upscaler by StockPhotos is an easy-to-use online tool for resizing and enhancing images without sacrificing quality. The service is built on AI technology, which means it operates completely automatically. JPG, PNG, WebP, and BMP are among the file types supported by the smart upscaler. JPG files will remain unchanged for output, and the rest will be converted to PNG files. 
Upscaler by StockPhotos allows you to resize three photographs to half their original size for free. After that, you need to pay $7 for standard (20 upscales) or $15 for premium (100 upscales). It will also allow you to boost upscale resolution and unlock some additional features. Note that unused upscales expire within 12 months.
| | |
| --- | --- |
| Pros: | Cons: |
| | Only 3 free upscales available |
| |   |
| |   |
Cutout.pro Image Enhancer & Enlarger
Price: Free (1 image); Paid ($5/month)
Compatibility: Online, Android, iOS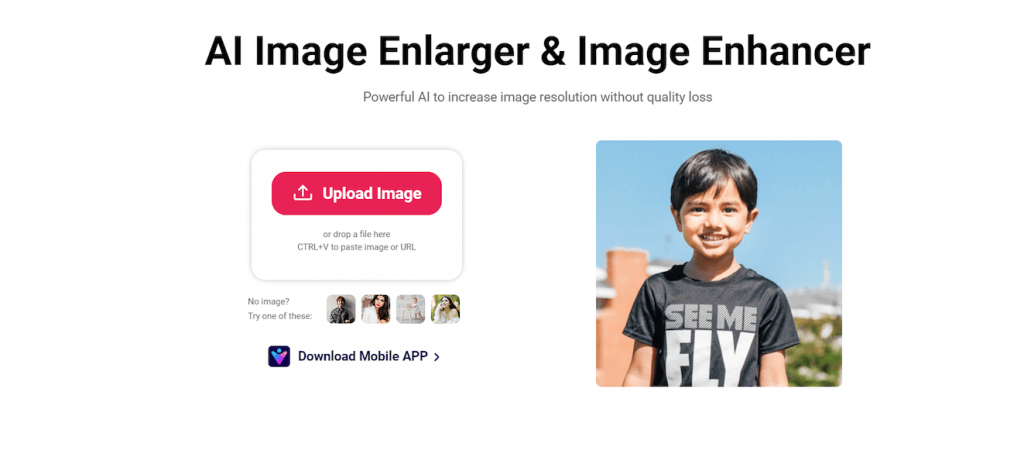 Cutout.pro is an photo enlarger and enhancer that uses AI technology to automate and speed up file processing. The platform allows users to upload several files at once and improve photos in bulk. Cutout.pro deletes processed pictures after 60 minutes due to privacy concerns. 
On their website, Cutout.pro uses credits for payments. For $5 per month, you can obtain 40 credits, which allows you to improve 20 photographs. You can also go with the pay-as-you-go option; 10 credits cost $4.99.
| | |
| --- | --- |
| Pros: | Cons: |
| | |
| |   |
Deep Image AI
Price: Free (5 images); Paid ($9/month)
Compatibility: Online, iOS, Android, Windows, macOS
Deep Image AI is a tool that allows you to upscale a picture up to 4k resolution and eliminate JPG artifacts and noise. Picture processing takes no more than 30 seconds, and all processed files are automatically deleted 24 hours after being uploaded. 
Users can test Deep Image AI for free after registration. They'll be able to process 5 pictures for free. To continue using the service on a monthly basis, you'll need to pay $9 per month for 100 pictures. Alternatively, you can pay $1.99 for 5 images and edit them whenever you like.
| | |
| --- | --- |
| Pros: | Cons: |
| Compatible with Windows and macOS | |
| |   |
| |   |
| |   |
ImageUpscaler
Price: Free (10 images); Paid ($3-12/month)
Compatibility: Online

Image Upscaler is a web-based tool that allows you to enlarge pictures 4 times their original size without quality loss. The service is designed with the help of deep learning AI, which analyzes a picture and generates new pixels to make the final product look natural.
Photo enhancer works with JPG, JPEG, and PNG file formats. The maximum picture size is 5 MB, with a width and height limit of 1000 pixels. The processing time ranges from 10 to 60 seconds. 
You can improve up to 10 images each month for free with the "TestMode" subscription. Afterwards, you'll need to select the "Subscription" or "Advanced" plan, and pay $3 (100 images) or $12 (500 images) per month.
| | |
| --- | --- |
| Pros: | Cons: |
| | |
| Image enlargement up to 4x | |
Summing up: What is the Best AI Image Upscaler in 2022?
If you are looking for a low-cost solution with a high-quality outcome, we recommend using the free Depositphotos Upscaler. If budget is not an issue and processing in bulk is important to you, then consider using a paid version of Icons8 or UpscalePics. Choose a tool that works for your needs best and save time for more creative tasks. 
FAQs about AI Image Upscaling
What is image upscaling?
Image upscaling is the process of resizing by turning a lower resolution picture into a higher resolution one.
How does AI upscale images?
To upscale pictures, Artificial Intelligence generates missing pixel data. Then, it fills in the gaps and optimizes the picture to make it crisper and bigger.
How do you upscale an image?
You can use graphics editing software, such as Adobe Photoshop, to upscale a picture. However, editing skills are needed. Alternatively, you can utilize online image upscaler tools that do not require any prior understanding of image processing.
How do you upscale an image without losing quality?
Utilize AI photo enhancers to upscale a picture without sacrificing quality. They usually work well with detailed pictures that have not been upscaled before.
How do you increase the resolution of an image?
The more pixels in an image, the higher the resolution. Explore different ways to increase the resolution of an image. Any advanced software (Adobe Photoshop, Lightroom, GIMP) has the ability to enlarge pictures. If you don't have special skills or experience, you can use AI upscaling tools to get faster results. Artificial Intelligence technology behind them will fill in the missing pixels and make your photos look sharper.
People also read
How to Compress Images and Which Tools to Use
How to Сhoose the Best Graphics Editor: Online and Desktop Tools for Image Editing