Web design trends reflect the times we live in. As lifestyles change and technology advances, digital designers also need to evolve in order to meet the needs of customers and clients.
For a while, security was a top web design trend. This was followed by a drive toward page speed and faster load times. Then, web design pivoted again, this time toward mobile devices.
What are the hot new web design trends to watch in the coming years?
Web Design Mirrors Our World View
The COVID-19 pandemic changed the way we live, shop, and work; web design trends mirror this transformation.
Currently, there are millions of web design professionals out there. In fact, web design is one of the most popular categories among freelancers. That's a lot of minds thinking alike. How do you differentiate your website from this hive-mind of designers?
By staying current with creative trends and getting the right people in place.
Great design is important. According to studies, 94% of a customer's first impression of a brand — and 75% of the brand's credibility — is based on website design. Clients need to trust you, whether they're visiting your e-commerce site or standing in your brick-and-mortar storefront.
From feeling safe to seeing familiar faces, below are 14 major web design trends to watch in the coming years.
14 Major Website Design Trends Every Web Designer Should Know
The Comforts of Home
People have been through difficult times over the last couple of years, and web design is a mirror to our societal leanings. There are more and more dying graphic design trends in 2021.
Consumers crave websites that feel "safe and comforting," like a cozy reading nook in your home study, or a neatly organized office. Your website should transport visitors to a new world, but make them feel as safe as if they are in their own home.
Clean, Sleek Layouts
Websites have a tendency to get busier and busier over time, especially when it comes to sidebars or pop-up ads. The next trend in web design will lean toward cleaner websites. Fewer distractions will allow visitors to focus on your site's message and content.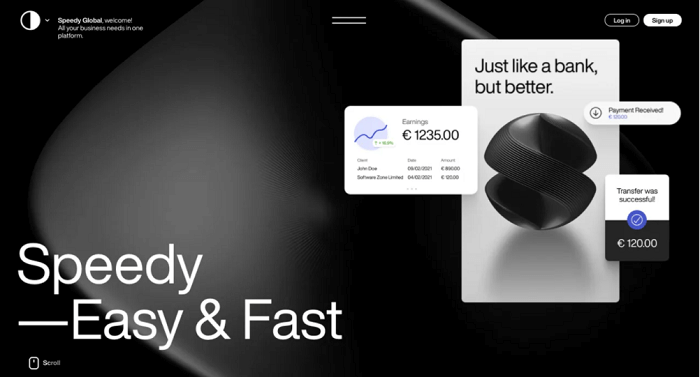 Clean, clear layouts, like this one from Speedy, use minimal design to highlight content.
A Positive Color Palette Makes a Good Impression on Visitors
Fun and optimism are in fashion after pandemic lockdowns. Down with the dreary! People want to be pleased and dazzled by color choices.
Web designers will give it to them. This includes focusing on more inclusive content, gender-neutral design, and language translations.
Come one, come all!
Harmonious Composition
Great website design is a delicate balancing act, pitting images, text, and other design elements against one another. Finding the right visual symmetry that draws focus to the information you wish to impart is a trend that will influence web designers in the coming years.
When your web elements are in harmony, visitors will naturally gravitate toward your targeted information and/or products. If you need to see this in action, take a look at templated designs on popular web design platforms; you'll notice a very clear balance between elements.
Earth Tones and Serif Fonts
Natural color palettes are influencing designers in every field, and website designers have also been drawn to timeless shades of brown, green, and sky blue when building eye-catching splash pages. These colors resonate with visitors on a deeply emotional level.
Also making a return are classic "typewriter fonts" like Times and Garamond – serif-fonts that feature thin/thick characters with bold shapes or curly-cues at the end of the letters. Maybe it's nostalgia, but these fonts with the "look of a book" have a big impact on viewers desensitized by the sans serif malaise of modern digital text. (We're talking about you, Arial!)
Speaking of font usage, there is a recent trend in big, bold fonts, as well as interactive fonts, like those that change weight, shade, or shadowing when your mouse rolls over them.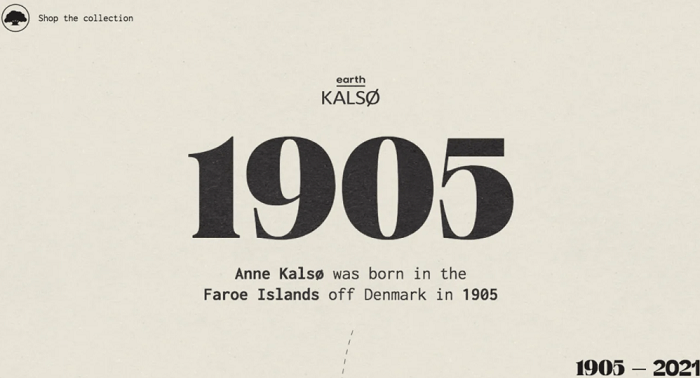 Big, bold fonts — like this one used by Vaan for the classic "Earth Shoe" — are a hot web design trend.
Real People in Retail Advertising
Supermodels promoting products are out. Consumers want inclusivity and relatability. That's why web designers are using images of real people in modern web design, including people of all races, ages, genders, body shapes, and lifestyle orientations.
Ecommerce retailers realize that if they want to sell to everybody, they need to include everybody. Look for more familiar faces coming to web designs in the next year. Thanks to pandemic lockdowns, we're all homebodies who live in The Age Of The Introvert!
Celebrate it in your web design!
Targeted 3D Visuals
Some web designers went a bit overboard in the last few years with the use of 3D elements. Look for the 3D visual trend to continue in the coming year, but on a more subdued scale. Motion elements and transparent videos can still give a website tremendous flair and functionality when used subtly.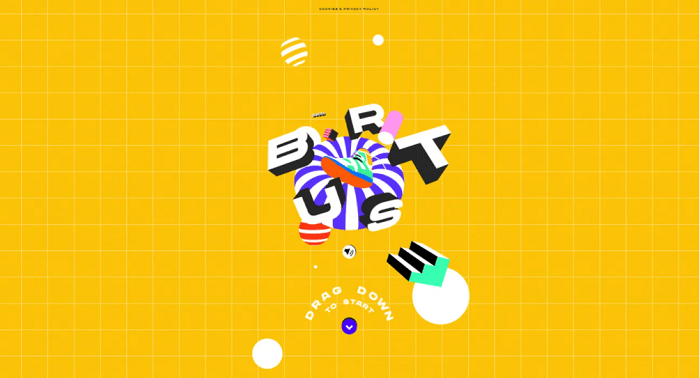 This site from Gucci uses bold design and 3D visuals to convey a message of fun and excitement.
Surrealistic Websites
Perfume commercials have long used strange visuals, dialogue, and sound to imbue their product with a near-mythical mystique. Some of those surrealistic sensibilities are making their way into web design.
It's the perfect medium for creative applications and can result in a user experience that is truly "an experience." Like anything experimental, there will be many surrealistic web design fails. But expect a couple of game-changing web design trends to emerge from the surrealist movement in the coming year.
Go forth and get creative!
Storytelling
This trend has been going strong for the last few years and shows no signs of slowing. People are drawn to stories, and web designers are incorporating storytelling concepts into their websites.
Fundraising sites like GoFundMe are all about telling personal stories that connect with contributors.
E-commerce retailers have adapted this "story first" method to engage customers with products in meaningful ways.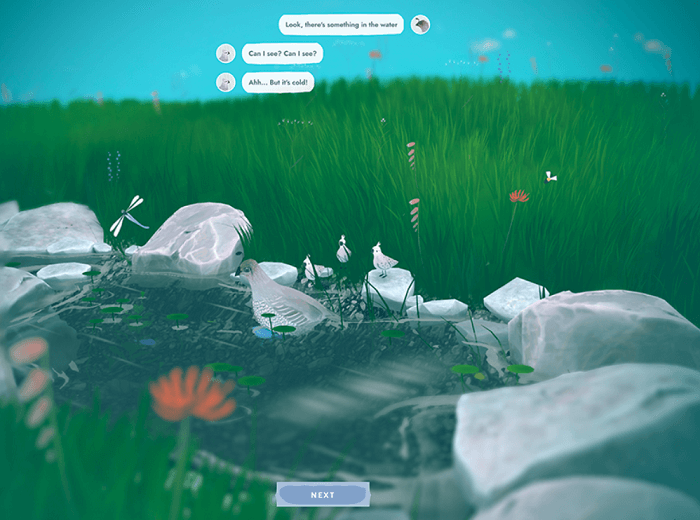 Lush design and interactivity take web-based storytelling to a new level at "My Little Storybook."
Customization and Accessibility
One way to give customers a better user experience is by allowing them to design the experience themselves. By opening up web design to customization and accessibility, you will get more satisfied customers who come back again and again.
This may sound complicated, but it's not. You don't need advanced programming skills or sophisticated software to do this. Today, you can make your website accessible with beginner-friendly tools like Elementor and other WordPress page builders.
Web designers will lean into customization and accessibility features in the near future, and the result will be websites with interactive design and brand-loyal visitors.
App-like User Experience
So many of our day-to-day interactions involve thumb-scrolling and index finger swipes. This is why designers are incorporating "hands-on" elements into modern websites.
This literally puts the user experience into the hands of the user, allowing them to drive the UX forward. It also puts your products and services right beneath their fingertips.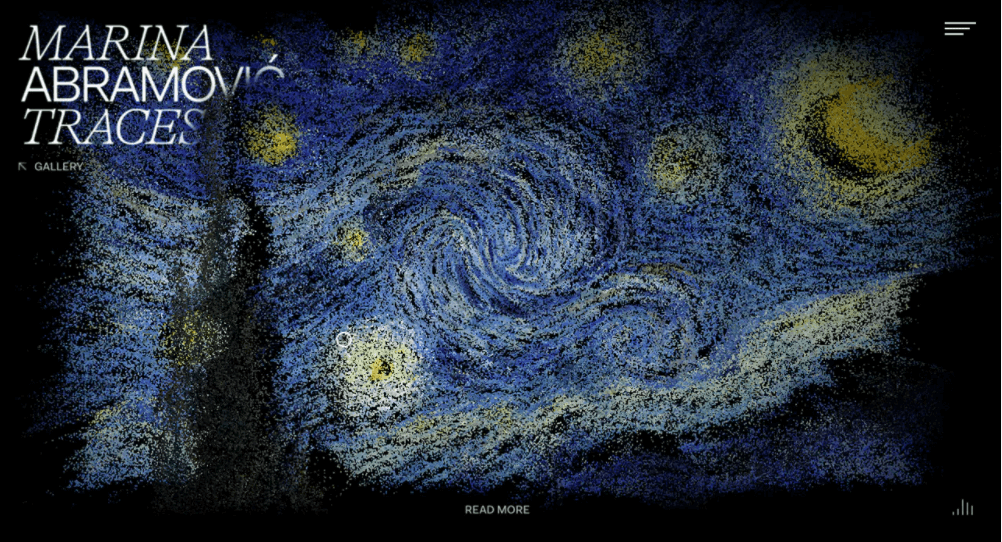 The innovative site of artist Marina Abramovic, "Traces," offers visitors a fully immersive digital experience.
Powerful Gradients
This popular shading motif is taking a new turn.
Gradients are being used as fill to add texture to logos and illustrations, while powerful shading effects are being added to make text elements visually resonate.
We love when classic layout elements, like gradients, find vibrant new homes in digital design!
Bigfoot(er) Sighting
Web page footers are growing. Some footers act as mini site maps, while others include elements like an email sign-up form. That's some fancy footwork!
More Glass Morphism
Glass morphism makes elements on your web page — logos, text, images, etc. — transparent, just like glass. This eye-catching design element is already a popular trend, but watch it expand to interactive layers for more dynamic user experiences.
In Pursuit of the Perfect Website
Just as there are basic rules for photo composition, there are also basic guidelines for web design. Look, you've got mad skills as a visual artist — put your skills to use by designing an amazing website!
Once you come up with a few new designs for your website's front page, print out a hard copy and hang it on the wall of your office. Physical printouts have an undeniable power…and you don't have to pay a fortune for genuine ink/toner.
Look at your design from a variety of angles and distances. Your web page should look compelling from every perspective since you never know where and when visitors will encounter your site.
Don't underestimate the importance of logo design (as a part of broader concept of web design), as it's creating a lasting impact on your visitors. Choose the right logo that will match your website design and make it look professional. However, no need to overcomplicate things here. Play with free online logo makers first to see if you can find something suitable quickly and at no additional cost.
Crafting a visually attractive website is half of the equation. Developing a highly functional website that offers a seamless user experience is the other half.
The best websites of 2021 all share a common design thread — they draw customers in and keep them there. A great website doesn't just sell, sell, sell — it informs in an organic fashion, which, in turn, helps build your brand and your customer base.
Looking Forward to Coming Years
If the pandemic taught us anything, it's that the future can be difficult to predict. But one thing for certain is that web design trends will adapt to user wants and needs.
Traditional design elements like split screens, collage designs, and abstract images will enjoy a rebirth in the next few years, as web designers blend timeless design with emerging technology, like 3D graphics and interactive visuals, to connect with the next generation of web users.