A DIY or semi-professional photography studio, like the one you can build right at home, is a chance for individual photographers to start their career and for other professionals — to start their small enterprise. A great advantage of a photography studio based at one's home is that you don't have to pay rent and you can easily manage your working space. In this article, find tips on how to set up your home studio, what equipment and photographic studio lighting to buy, how much money you need to start a business of this kind, and what studio design to choose.
Preparation Stage: Think of Goals, Genres, and Your Work Plan
An important condition for launching a startup (and a home photography studio is definitely a startup) is an understanding of why you are going to do this and what resources you need in order to make your idea a reality. We recommend that you clarify the following questions before jumping into setting up your creative corner:
Business goals
Do you want to have a studio for creative home photoshoots, or are you looking for profit? Do you want your home photography studio to be just a start for your business, after which you rent a full-fledged separate space to earn more? Your projected budget depends on these answers.
Photography genre
Decide on the genre of studio photography that you want to focus on. This can be food photography, product photography, individual or group portraits, newborn photo sessions, or abstract photography. The equipment and a set of other items that should be in your studio depend on your decision. The genre of photography also determines how much space your studio will occupy and if you need windows or more artificial lighting.
Budget
You can build a low-budget DIY studio, or you can invest in creating a specialized full-fledged professional studio that you can rent to other photographers. For example, you can create a professional fully-equipped studio for taking food shots.
Work intensity
If photography is your main occupation, you will spend most of your time in the studio. But if you're just after photography courses, most likely all you need is a convenient training ground that you will only use once a week. Your work intensity determines whether your photography studio will be stationary or modular.
Setting up a Studio: What Design to Choose?
When you've decided on the main questions regarding your activities in your photography studio at home, it's time to move on to more concrete things. For example, the design of your studio. There are both budget and costly approaches to filling your creative space.
DIY approach
Budget — $0 If you study photography or take non-commercial art shots, you might not plan to invest a lot of money in creating your setup. You can always use available tools for background design. Give a chance to what you already have at your fingertips: furniture, paintings, flowers, wallpapers and walls, pieces of fabric, wood panels, and books.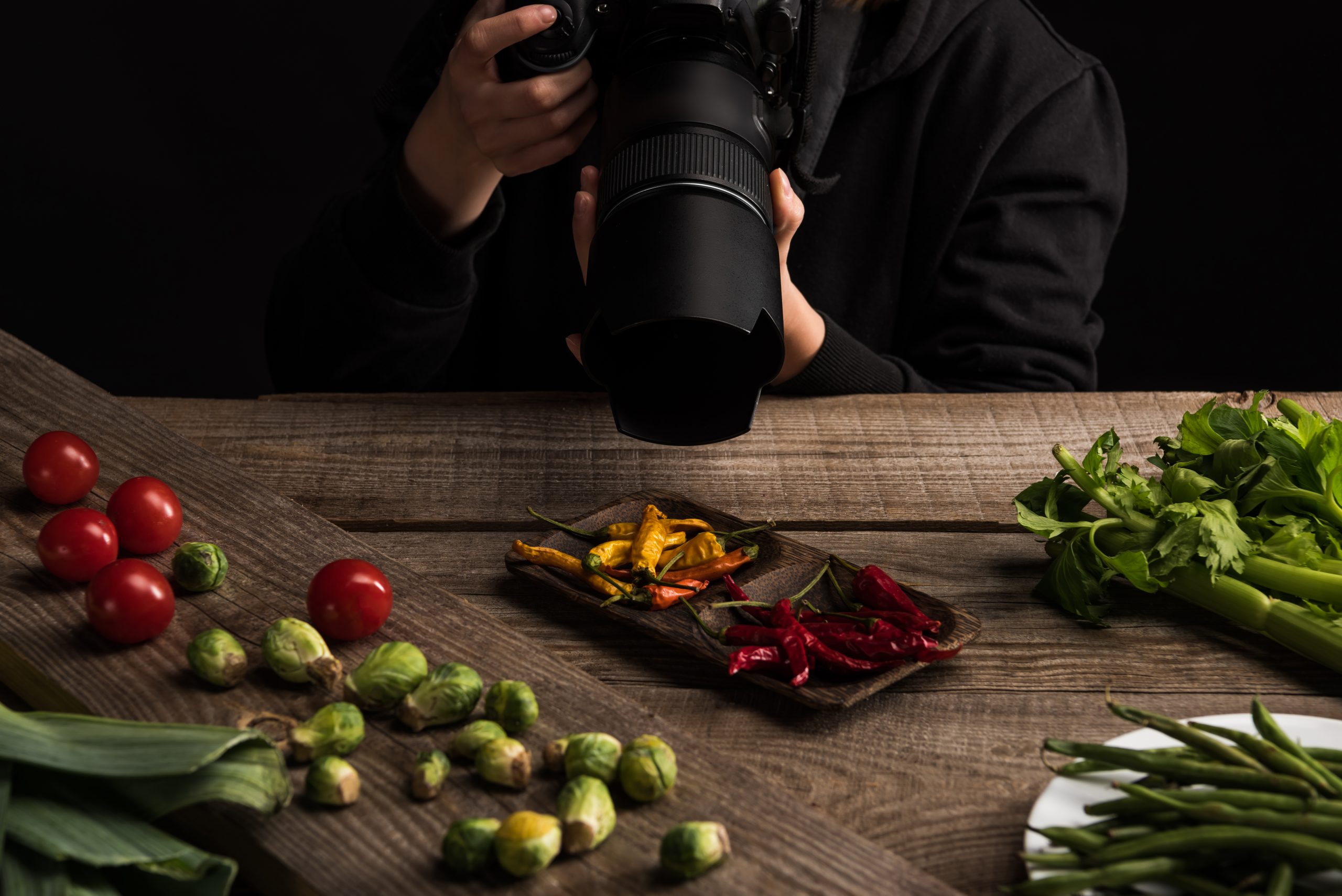 Low-budget basics
Budget — up to $100 For taking commercial photos you need collapsible backdrops and a few versatile pieces of furniture like a chair and table without decorative elements. The rest of the props depends on which genre of photography you choose. The most inexpensive type of professional background for portrait (especially of a headshot type) and product photography is made from paper. You might also need several rolls of fabric.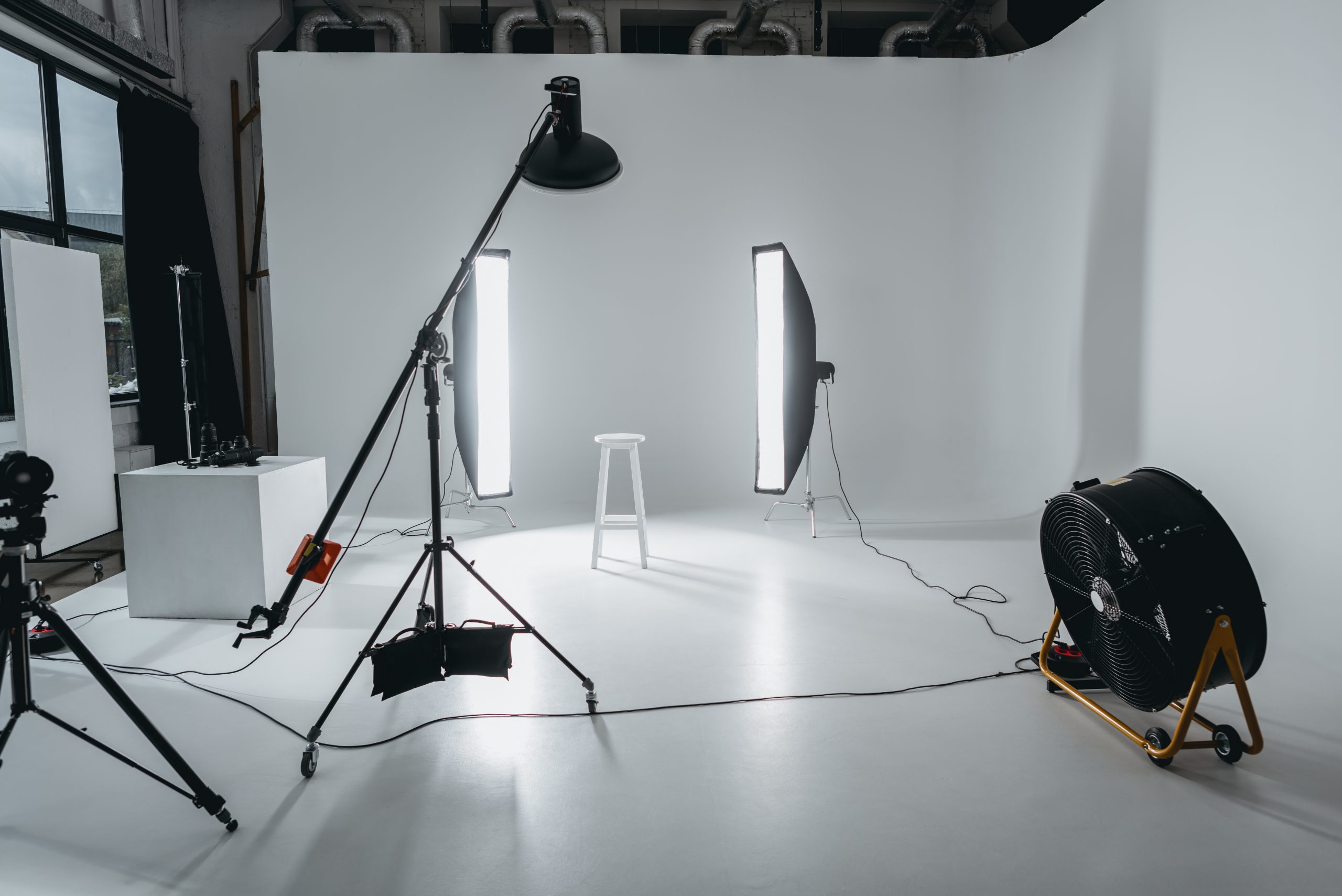 Professional approach
Budget — starts from $200 High-quality backgrounds for photography studios are made of fabric or vinyl. These materials reflect light in the right way and can simulate different textures. We advise you to order backgrounds in several colors. The basic ones include gray, white, and green. You will also need furniture items. Shooting models in real interiors will expand the potential of your home photography studio and attract new clients. Among trending studio designs are vintage and cyberpunk styles. Creating decorations that simulate living space (such as a bedroom, living room, and dining room) will attract those who want to have a family photo session.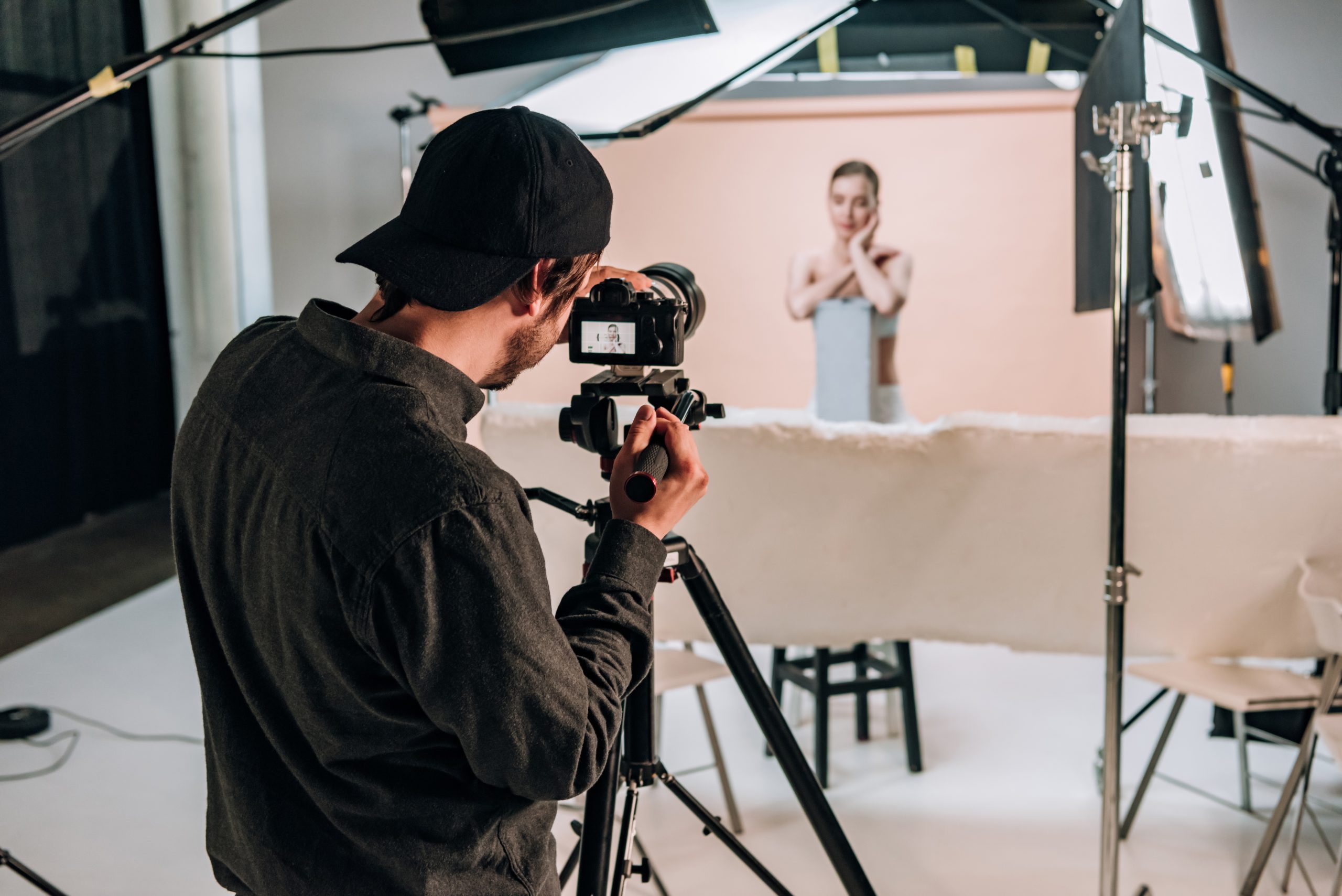 Studio Equipment for Photography at Home: What Do You Need?
In this section, we would like to describe the basic set of equipment and tools you will need in order to create images in the main studio genres, such as portrait and product photography.
A camera, lenses, a memory card, and a tripod
You probably already have a camera that you are used to. Keep working with it. You will also need lenses that are designed for a specific focal length. Depending on how spacious your home studio for photography is, you will need lenses with different focal lengths. An ideal choice for a small studio is 70—150 mm. Also, make sure you have memory cards and a tripod.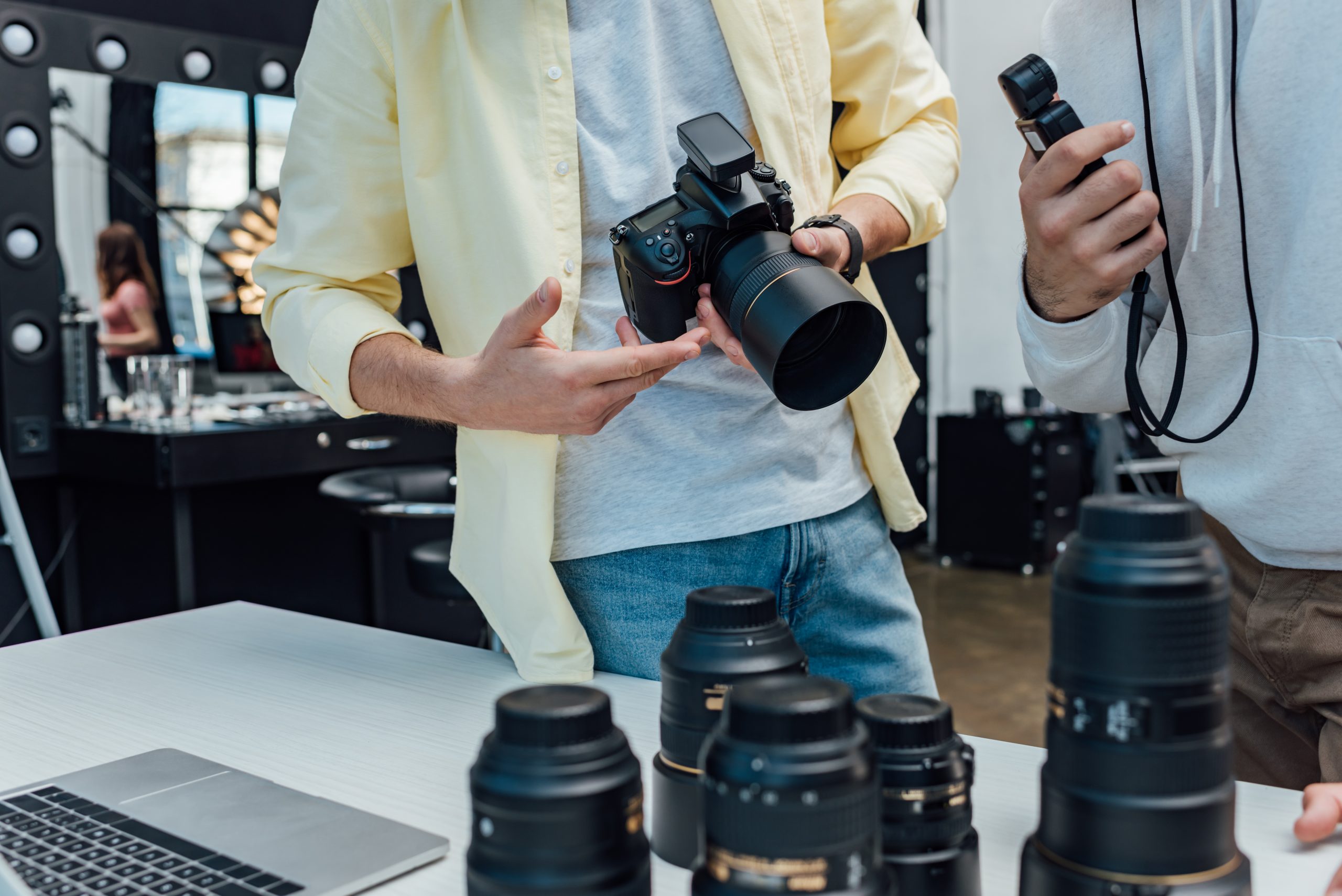 Photographic studio lighting
Use at least one light and one reflector, but take into account that the more lighting options you have, the better (especially if you are going to combine natural lighting with studio lighting). Start with manual speedlights or strobes, while setting up a studio. You also need a flash trigger for remote lighting control.
Lighting modifiers and stands
The most popular lighting modifiers are reflectors and umbrellas. Complex photo shoots require softboxes and octaboxes. If your budget is low, you can buy all of the basic modifiers in one set. Light stands are designed to fix your lighting equipment at the desired height or to direct the light beam at the angle you want. Depending on the height of the ceiling in your home studio for photography and its sizes, you may need stands 2 or more meters high. Advanced studio lighting toolset also includes grids, gels, and flags.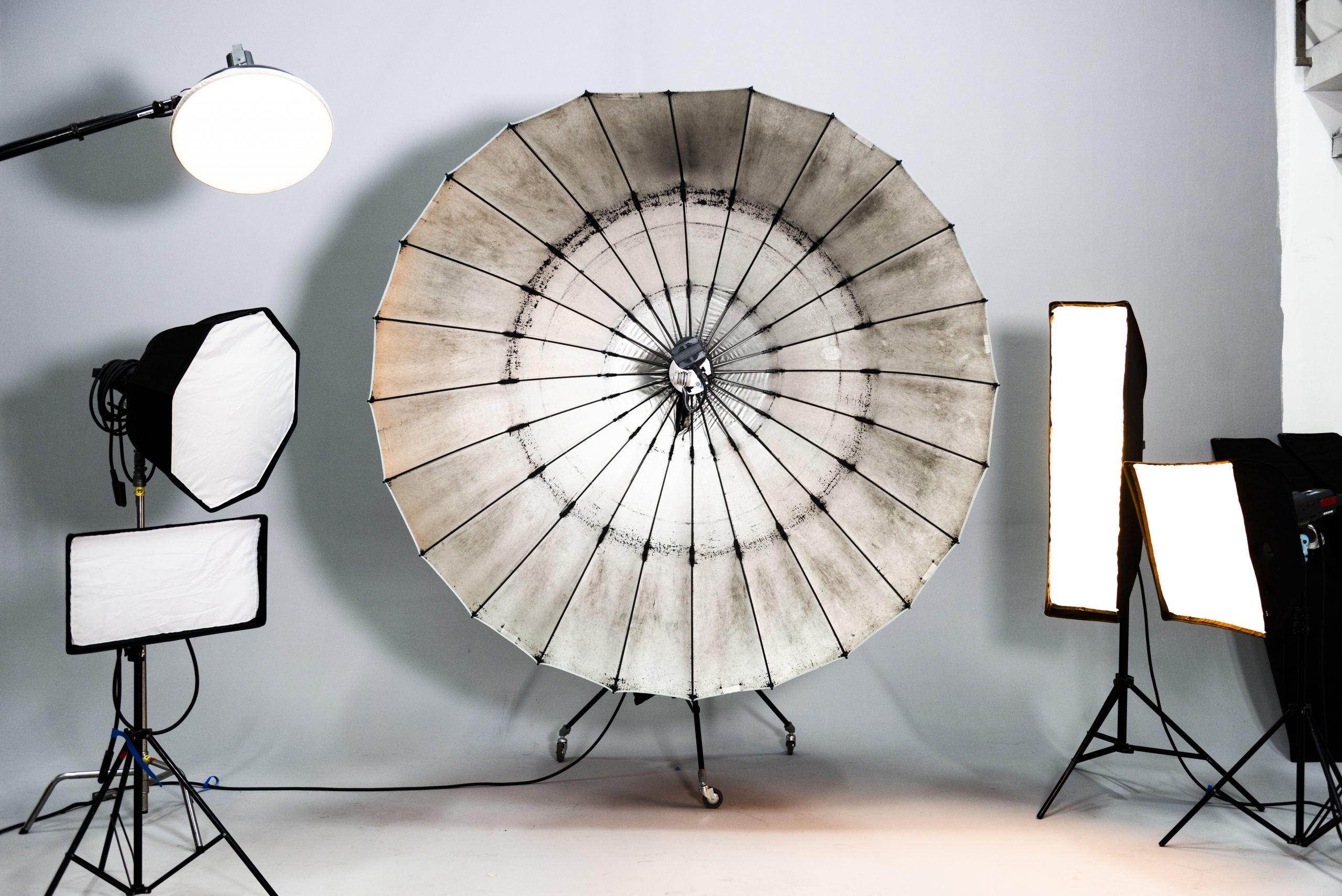 Background
Collapsible backdrops are the best solution for a studio designed for both portrait and product photography. You can also use your studio's walls as a permanent background.
Furniture and other tools
We advise you to start using the furniture you already have in your home. You will need a wide table on which you will place objects for your subject shooting, as well as a chair to photograph models in different poses. A tall bar stool will be an advantage. You also need to purchase step ladders. You might use it to get interesting angles, as well as set the studio equipment for photography. In addition, you can shoot your model on your step ladders.
Power strips
All of your equipment requires electricity. Photographic studio lighting fixtures especially. Make sure you have an outlet where you can connect your devices while shooting.
Fans
It may seem to you that a fan is overkill, but this is not entirely true. Fans are multifunctional devices. On the one hand, they make working in a photo studio at home more comfortable (think of lighting equipment that heats up the air a lot!). On the other hand, you can create motion in a photo with a fan.
Accessories
It all depends on your goals and the style in which you shoot. Some things can bring a scene to life, and some create the right atmosphere for the shot. For a family photo session, you can stock up on a set of designer textiles and toys. Love stories require flowers. Food shots can look more interesting if there is cutlery.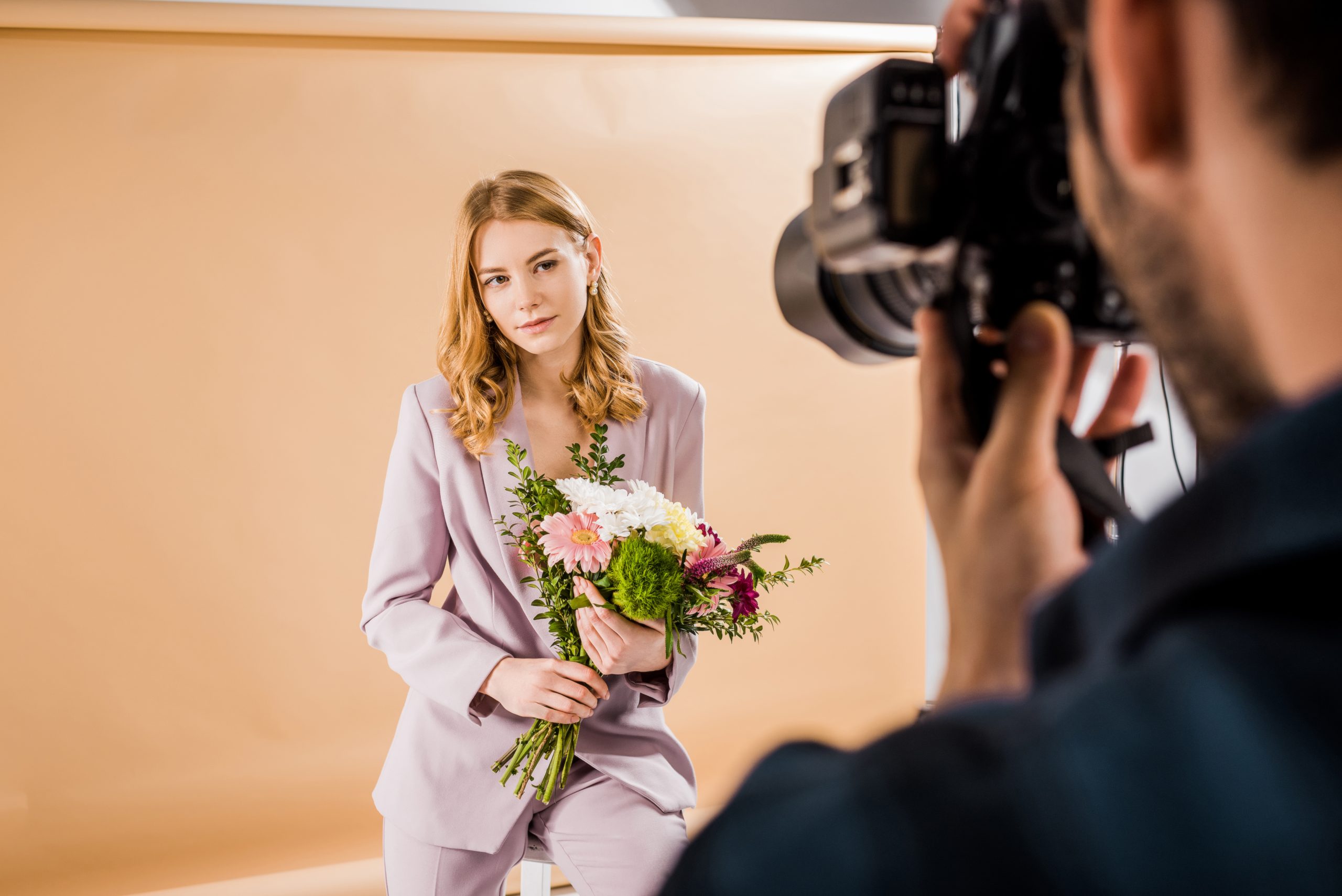 The Budgeting Stage: How Much Does it Cost to Make Home Photography Look Like Professional Shots?
How much does it cost to create a photo studio at home, saving on renting a ready-made professional photo studio? It depends on the level of equipment that you plan to use, as well as your imagination in creating DIY lighting fixtures and decorations. Below you'll find our estimations based on the Google research (prices from 2020) and information we received from Depositphotos contributors. Use them in case you want to sell images on stock photo stocks or to individual clients:
Camera, SD Memory card, two types of lenses and a tripod— from $400
Backdrop and its stand — from $100
Two speedlights, one flash modifier (a basic reflector), and stands — from $350
A table, a chair, and step ladders — from $50 (or could be free)
Power strips and fans — from $30
The total cost of building a photographer studio from scratch starts from $930. Consider that you can save money if you already have some furniture and equipment. Also keep in mind that although you do not need to pay rent for space, you still need to pay off the electricity bills. For image post production, you need a computer that is capable of processing graphics and a license to use image-editing software (for example, Adobe products). Subscriptions to such programs can cost up to $100 per month. There are also free photo retouching programs.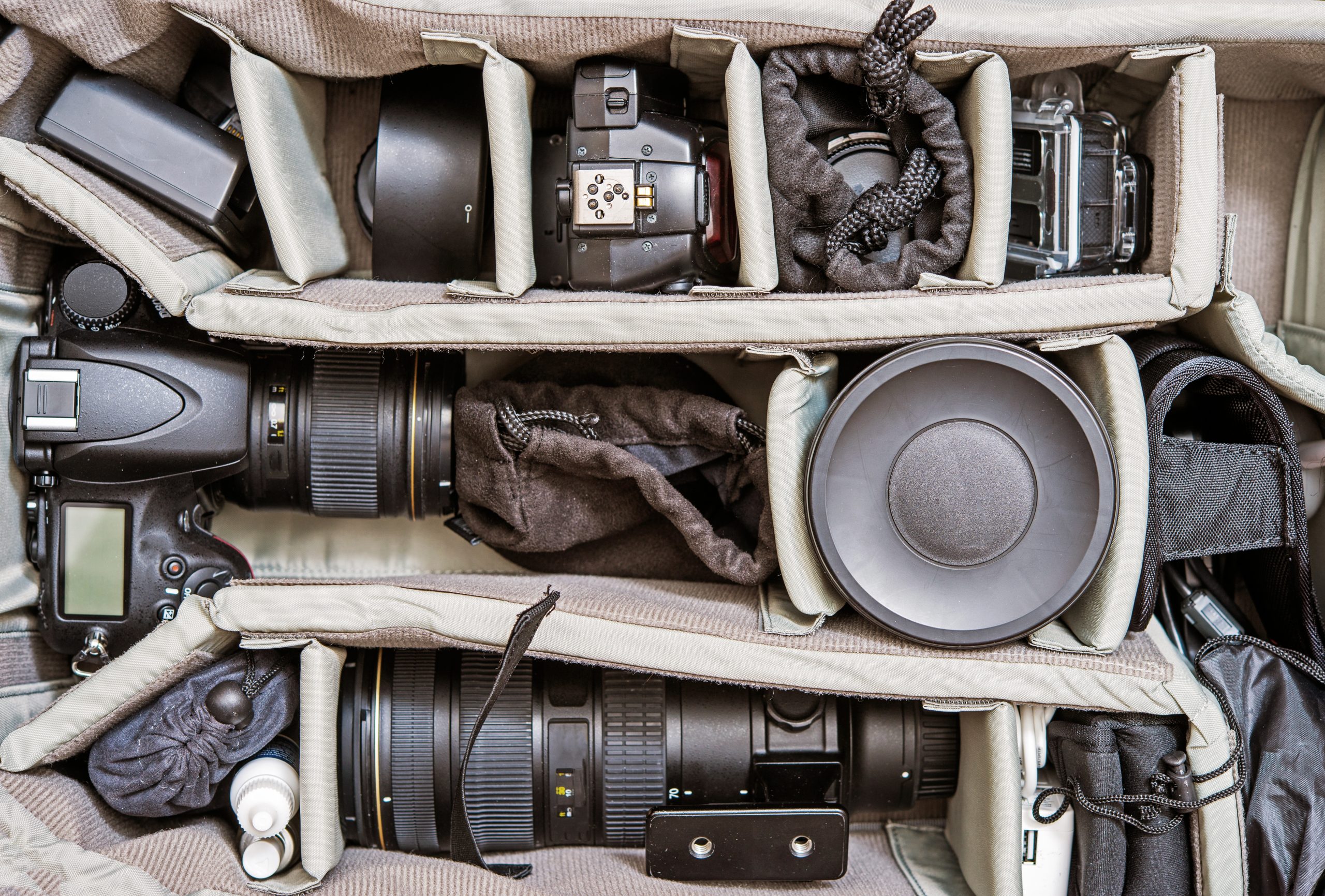 Useful Tips for Organizing a Photography Studio in 2020
As a rule, technology becomes cheaper over time. And what at the dawn of its formation cost tens of thousands of dollars (for example, a digital camera) can now be purchased at a modest price of $100. Similar processes are taking place in the world of photography studio equipment. The main technology in the field of lighting and digital photography was discovered more than 10 years ago. This means that today you can save a lot by purchasing high-quality, but used equipment. You can also use your creativity when designing DIY lighting and decorations. Here are some tips from seasoned Depositphotos photographers who also started out with basic home studios for photography:
Take advantage of natural lighting
Learn to use windows in your room as a lighting fixture if you are working in a photo studio at home, the size of which does not allow you to use multiple light modifiers and lighting stands. Yes, this is not easy, as the window is most often the source of blinding light and glare in the frame. Window light can also alter the shades of objects in a room through visual reflexes. We advise you to purchase several curtains of different thickness and shade.
Use powder to remove glow and oil to add them
Most likely, you will not have a professional make-up specialist or an art director at your disposal. To eliminate unwanted glare from the faces of models, ordinary powder in a neutral color will help. Use regular oil to give their skin extra shine. These tricks can help you save time during post-processing.
Choose lenses with the correct focal length or move more
You can use the equipment that you already have. But you need to keep in mind that a telephoto lens is not suitable for portraits in small spaces. If you don't have the opportunity to purchase a portrait lens or fish-eye one, use your creativity: take shots standing on a stepladder or in the corridor.
Use mirrors, paper, and sheets
The cheapest way to transform the light that you have at home (let's say you didn't purchase a studio light set, but want to make it yourself) is to use what you have in your room. The sheet that covers the lamp will create a lightbox effect, while the sheet of paper wrapped around the desk lamp could replace the studio spotlight. Mirrors are a versatile way to better illuminate a room and redirect light.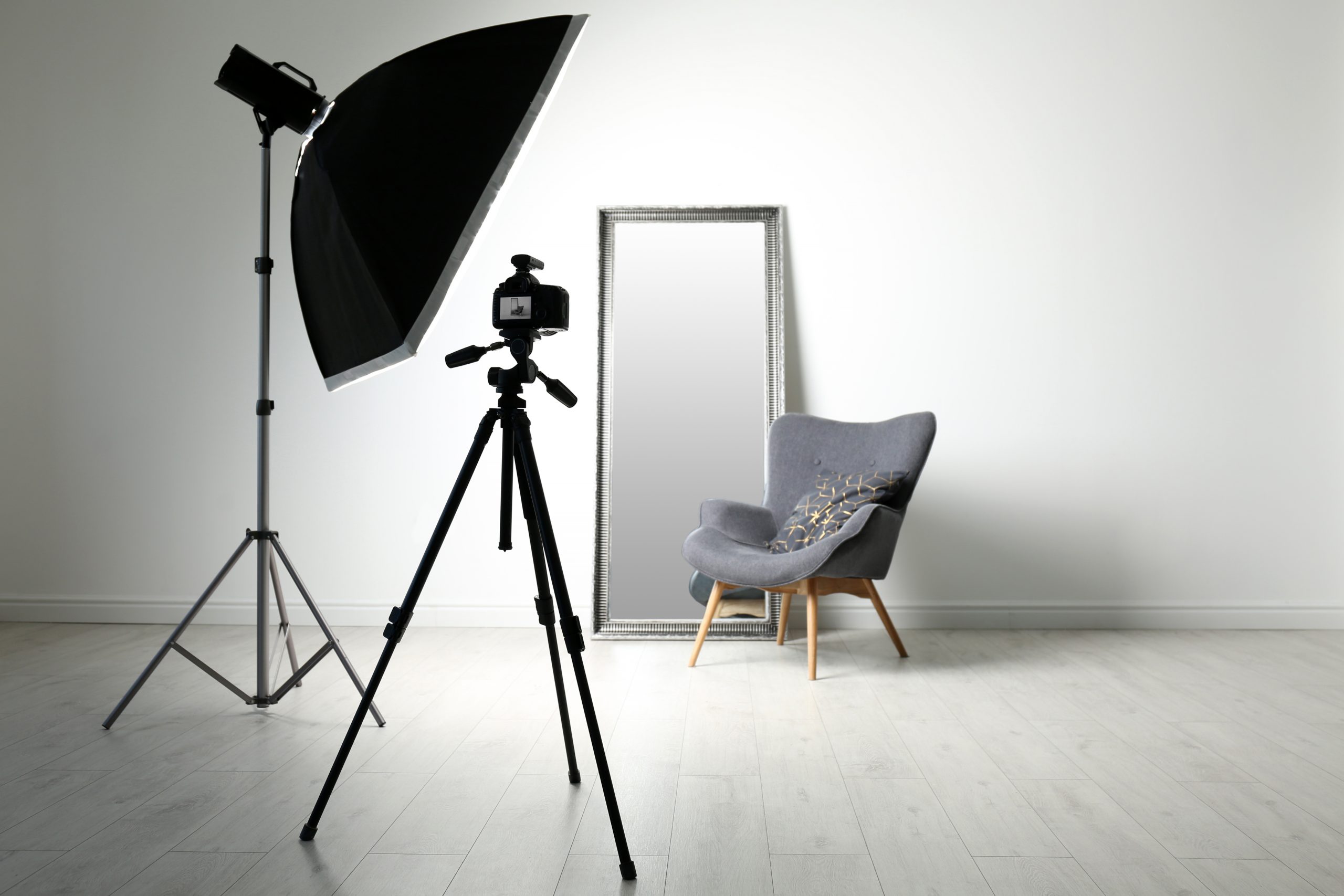 Learn from great photographers
If you are just starting out as a photographer and you need a home photography studio to test it out, we recommend the following exercise. Pick your favorite studio shots from the photography guru's portfolio, then try to recreate them at home. Duplicating their work will help you learn more about composition and lighting effects. Remember: all famous photographers were once new to this profession! You can also look for inspiration in the portfolios of stock photographers at Depositphotos.
Conclusion
Creating a photo studio at home from scratch might sound like a very daunting task. But hold on. If you have a dream, a few free square meters in your home, any camera, a table, paper, and plain fabric, as well as a few domestic lighting fixtures, you can already start on a DIY photography studio at home. Before setting up your home photography studio, answer a few questions: what your goal is, what kind of location you have, what your budget is, and what style you would like to work in. Another prerequisite for a successful home studio launch is accurate financial management. Think of how much money you can spend on a photography studio and invest in truly strategic things like a camera, lens, and lighting equipment. Let's say you managed to equip an area of your home using these tips. What's next? It depends on your goals such as whether you are planning to turn a photography hobby into a business. Start by uploading images from your home photoshoots to Depositphotos.