It's hard to imagine a day where Instagram stories don't exist. Currently, Instagram Story is one of the platform's most popular features, with more than 500 million active users watching Instagram stories daily, according to
Statista
.
The Instagram Story feature allows users to post content (either images or videos) that disappears 24 hours after publishing.
And because Instagram knows how important it is for businesses to keep track of their content, you can save your stories to your highlights.
Without a doubt, with the help of Instagram stories, businesses can reach their followers, increase their
brand's awareness
, and boost interactions and engagement, among many other benefits.
But as an image-driven network like Instagram, it can be challenging to develop a successful Instagram Story strategy and unique content ideas to differentiate from the crowd.
This is why we put together 4 Instagram Story statistics (because we know how much you love data) and 4 Instagram Story ideas (because everyone needs some inspiration now and then).
What changed in Instagram Story's performance in 2021?
We have to start this Instagram Story stats category by highlighting that Instagram is one of the most popular platforms, having the highest engagement levels.
So, it's only natural that businesses have understood the importance of diverse content and started to use Instagram stories regularly in their social media strategy.
Average number of Instagram stories per month
The median number of stories published in a month is 15-16 Instagram stories, according to an
Instagram stories study by Socialinsider
. This is double compared to 2020.
The study found that this applies to bigger brands, who have doubled their Instagram Story posting throughout 2021.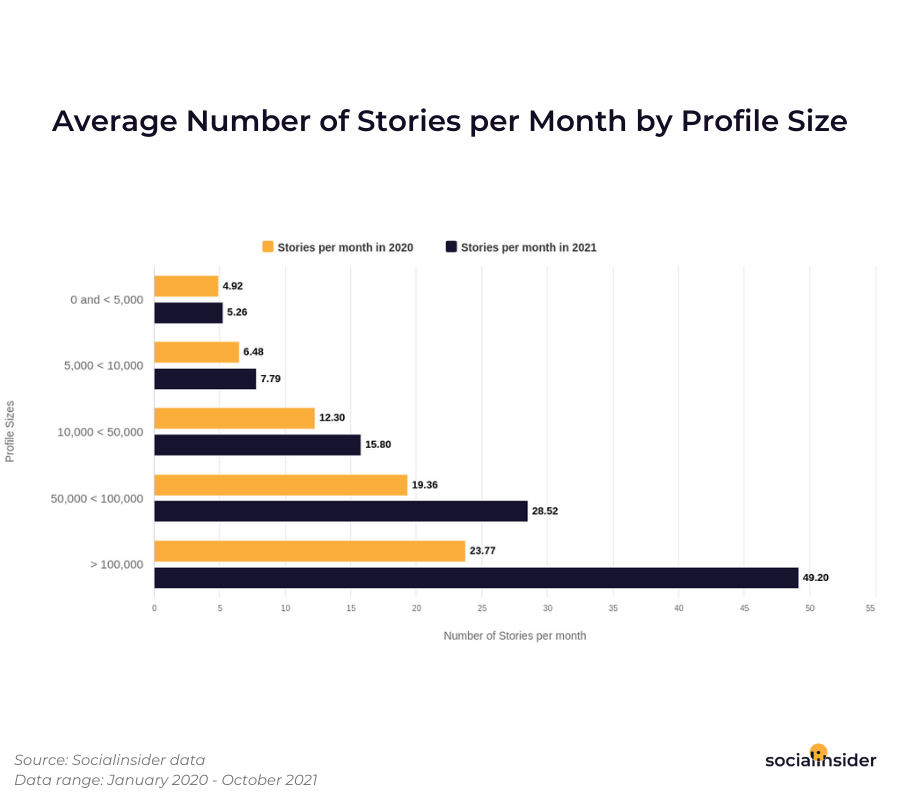 If we stop and think for a bit, this makes sense, because the bigger the brand, the bigger the budget for social media.
On the other hand, smaller accounts have lower increases in the average number of monthly Instagram stories published, but this doesn't mean that the habit of posting more Instagram stories doesn't exist.
Posting up to five Instagram stories per day ensures a retention rate of over 70%
Instagram stories have the advantage of instantly hooking viewer attention through storytelling. 
Since stories are all about visuals, they rely on the interaction between a brand and their followers through all sorts of methods – from live sessions and behind-the-scenes moments, to games or contests.
However, more doesn't always mean better, so brands need to be careful with the amount of Instagram stories they post. Too many can become spammy and push away the viewer.
In fact, the Instagram Story study done by Socialinsider discovered that posting up to five stories per day ensures a retention rate of over 70%.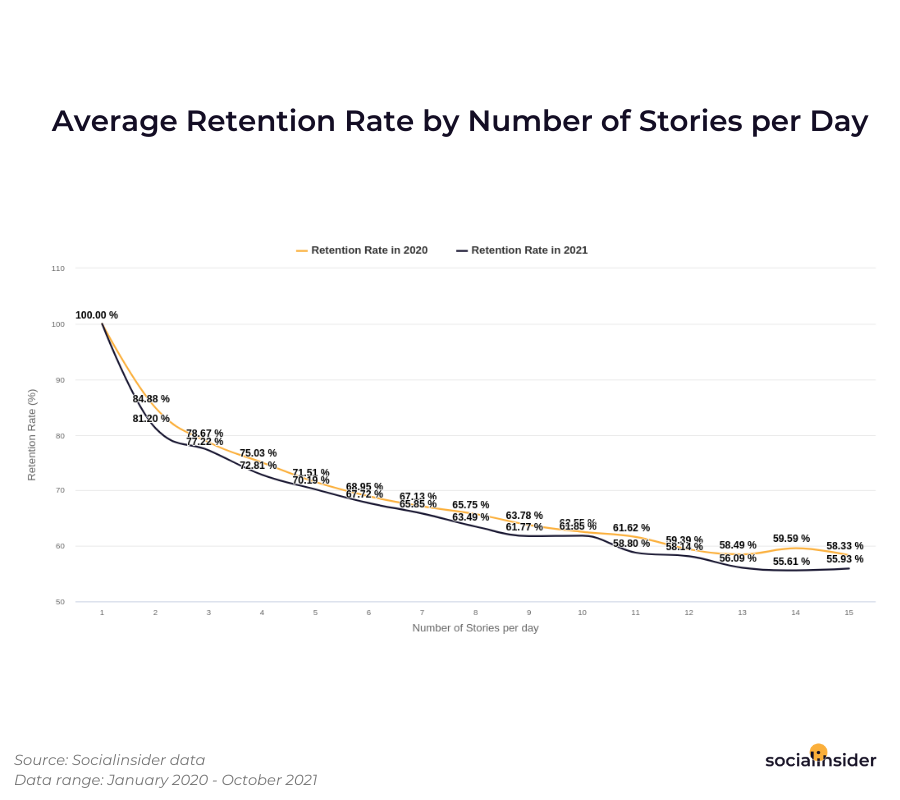 With this information in mind, brands can now adapt their Instagram strategy and give just enough Instagram stories to their followers, in order to make them want more and come back. 
Image stories vs. video stories
Without a doubt, video is a powerful type of content for both marketers and consumers. Through video, businesses can generate more leads and increase the time users spend on a page.
Not only that, but
video marketing
has the advantage of being more relatable and authentic, which is something that consumers desire more and more from social media.
However, in the case of Instagram stories, things are a bit different. The same Instagram Story study revealed that image stories slightly outperform video stories in terms of reach.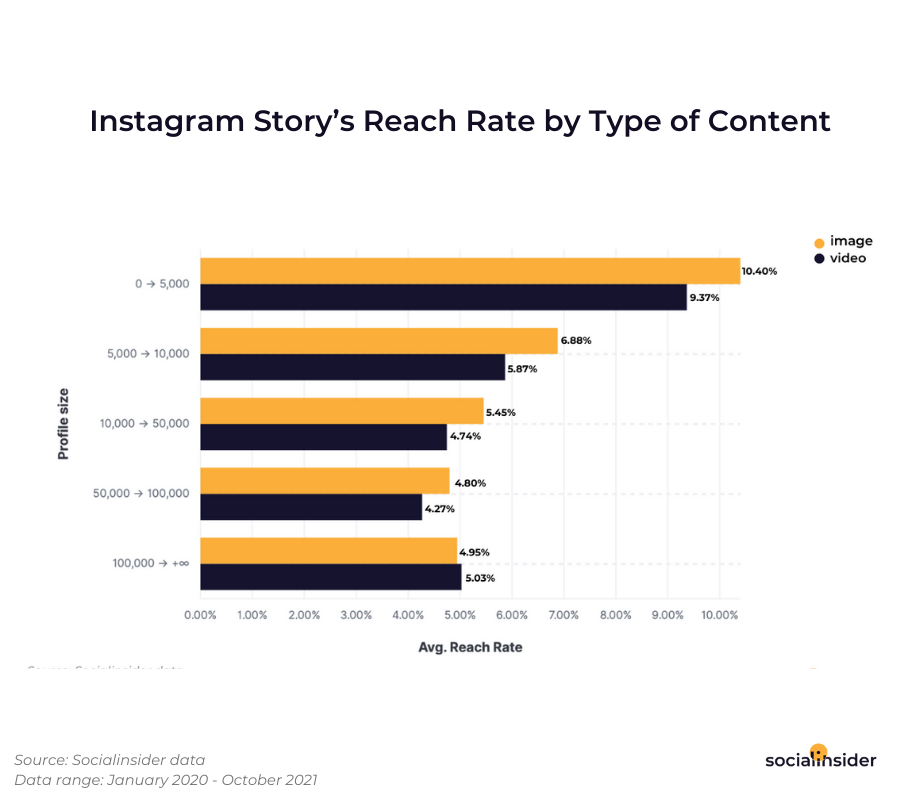 According to the chart, smaller accounts have a reach rate of 10.40% for image stories and 9.37% for video stories.
On the other hand, bigger accounts (with more than 100K followers) have an average reach rate of 5.03% for video stories and 4.95% for image stories.
Reach post vs. feed
As demonstrated earlier, Instagram stories are increasing in popularity due to their fun and creative nature.
Brands have not only doubled their usage of Instagram stories; it seems that including this feature in their content strategy will likely increase their reach rate as well.
However, this doesn't mean that brands should neglect the power in-feed content has. Sure, Instagram stories can let the artist in you shine, but social media managers should not neglect a brand's Instagram feed.
The same study done by Socialinsider found out that most of the time, a brand's Instagram Story reaches only half of the people in-feed posts do.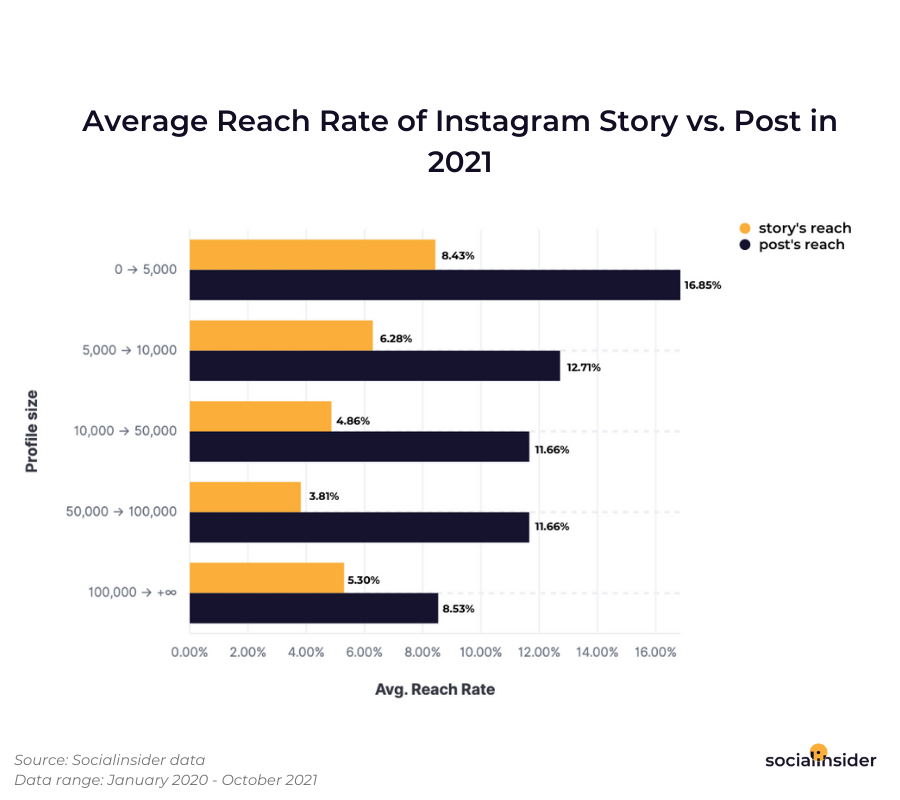 According to the study, these findings apply to all accounts, regardless of their fan base.
But one interesting thing to note here is that middle-sized accounts (with 10K – 100K followers) struggle to have good Instagram stories reach, despite posting around 22 stories per month, on average.
Instagram Story ideas to boost engagement
As demonstrated earlier, integrating Instagram stories into your business marketing strategy is a must in 2021.
However, we all know that today's digital space is extremely crowded, so being authentic and creative is not an easy job.
Let's explore five Instagram Story ideas that every business can adopt in their social media strategy.
#1 Include link stickers
At the end of October 2021,
Instagram
announced that it now allows all users to share links in their stories.
In the past, this Instagram feature was limited to verified accounts or accounts with more than 10K followers. This obliged the other accounts that didn't fit into these categories to add links in bio.
This limitation made everyone who couldn't add links to their Instagram stories desire this feature—not being able to add links to Instagram stories meant decreasing viewer interest.
You can play with this feature in endless ways, from cooking to volunteering, or even shopping.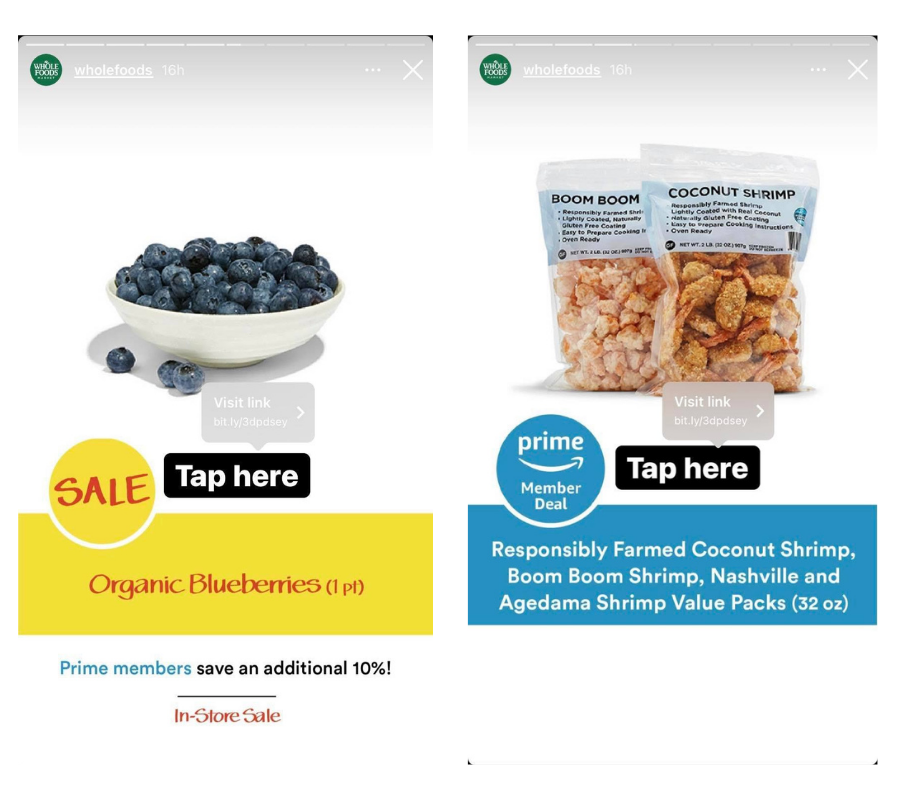 (Image source)
Before posting your Instagram Story, add a call to action so that your audience wants to click your link. For example, "Read more here!" or "Want more? Continue reading!"
If you want your Instagram Story to be more interactive, you can also add poll stickers or question stickers next to the links.
#2 Showcase behind-the-scenes content
Behind-the-scenes content is the type of content that is not that polished or edited. With this kind of raw content, you can connect with your followers on a deeper level.
Social media is all about presenting the best facet of your personality or business. But people started being more interested in real stories that speak to them directly, especially since the pandemic began.
This is why showing your followers behind-the-scenes content is an excellent Instagram Story idea. You can walk them through your office, show them the coffee shop you're working from, or film your cozy couch that has become your workspace.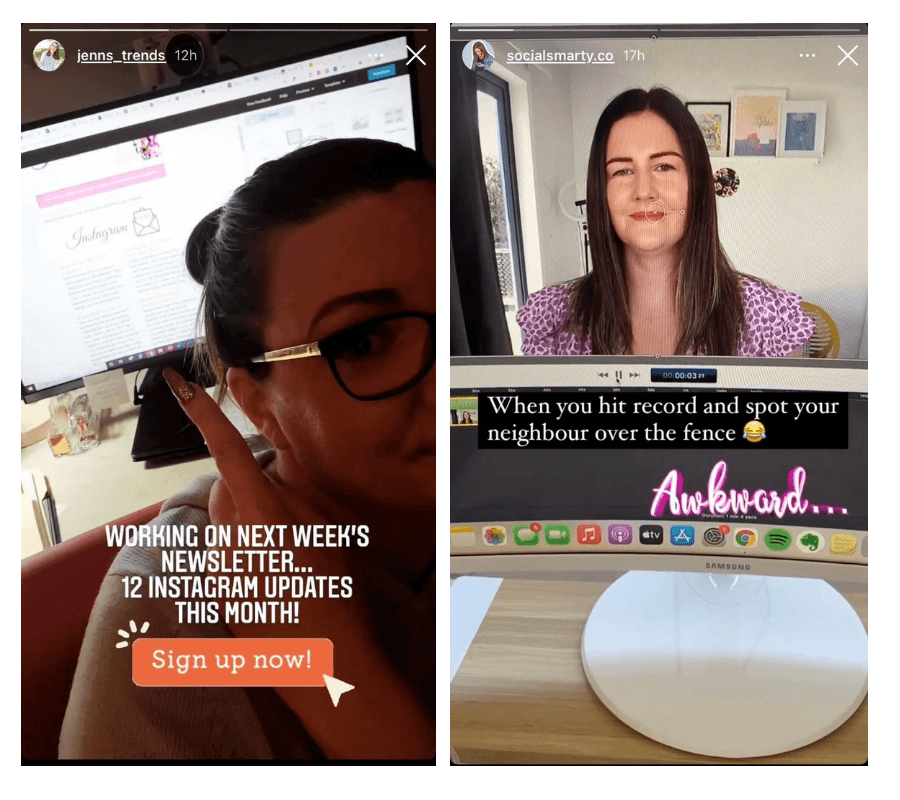 (Image source #1 and image source #2)
You can also present how your products are made and guide viewers through each step, from the early stages to the final product.
No matter what you decide to share with your followers, this kind of Instagram Story will show the human side of your brand; you'll become more relatable in the eyes of your audience.
#3 Share testimonials from happy customers
All marketers know that people are more inclined to try or buy a product or service if they read positive testimonials from clients first.
This is only natural, since we all want to have the best experience, no matter what the brand sells.
For this reason, don't hesitate to share testimonials from your customers on Instagram stories.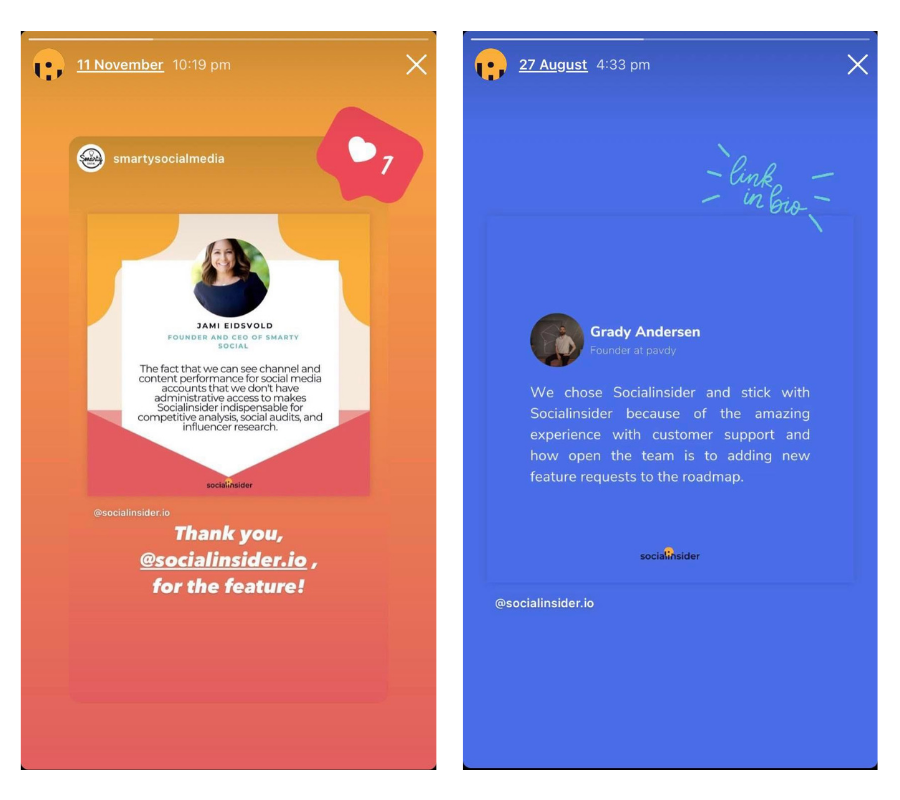 (Image source)
Testimonials give people a taste of what the product or service offers before trying it themselves. A well-crafted testimonial will make the audience take action, so this is an Instagram Story idea you don't want to miss.
You can use the question sticker in your Instagram stories to share responses from your followers, take screenshots from your conversations with them, or share whenever you receive a positive testimonial from your customers.
#4 Do tutorials and how-tos
Instead of essential tips and tricks, or static Instagram stories, you can create tutorials or how-tos for more in-depth information.
A great marketing strategy is one that actually brings value and educates people on specific topics. 
So if you want to teach your audience something, tutorials are the perfect Instagram Story ideas to do so. This will place you as an expert in your niche, and make people come back for more valuable content.
Due to the temporary nature of Instagram stories, you'll have to keep things short and sweet. Our attention span is much shorter anyway, so you'll be surprised by how much you can achieve through this excellent Instagram Story idea.
Conclusion
If you haven't started using Instagram stories as part of your social media strategy, there's no time like the present. Instagram stories allow you to be creative, provide more in-depth information to your target audience, and trigger them to take action.
When done well, Instagram stories will boost your engagement and help you connect deeper with your followers. This article with useful statistics and inspirational Instagram Story ideas should give you enough to start your Instagram Story journey!